Murie Ranch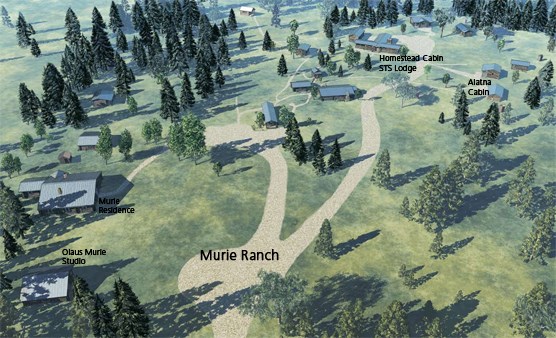 The Murie Residence was listed in the National Register of Historic Places in 1990 followed by the Murie Ranch in 1998. The properties were declared a National Historic Landmark in 2006.
The Murie Ranch
The Murie families, Olaus and Margaret (Mardy), and Adolph and Louise, bought the STS Dude Ranch in 1945. After moving to the ranch, the Muries removed fences so that wildlife could freely pass. For Wilderness Society Director Olaus Murie, the Murie Ranch represented the heart of American wilderness.
The Murie Ranch became a base camp for conservation leaders. These passionate advocates met to campaign for the protection of American wilderness. The Muries' conservation work culminated in the passage of the 1964 Wilderness Act. The Act defined wilderness as a place "untrammeled by man, where man himself is a visitor and does not remain." Olaus' wife Mardy received the Presidential Medal of Freedom in 1998, the highest civilian honor in the United States.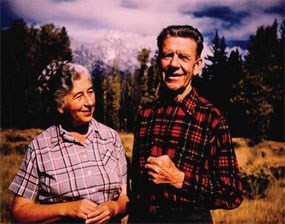 The Murie Residence
Olaus and Mardy lived briefly in the Alatna Cabin before moving into the cabin known today as the Murie Residence for the rest of their lives (Olaus passed in 1963 and Mardy in 2003). Olaus published studies about Jackson Hole wildlife while living at the ranch. He argued for ecological boundaries to keep ecosystems intact when legislating park areas instead of drawing arbitrary boundaries. He helped establish the Jackson Hole National Monument in 1943.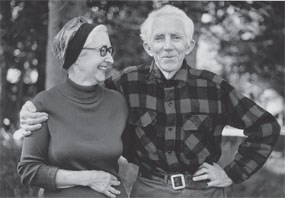 The Homestead Cabin
Wildlife biologist Adolph Murie and wife Louise used the Homestead Cabin as a home and office. Adolph published one of the first studies arguing against the National Park Service's predator eradication programs. His wolf and coyote studies showed that predators play important ecological roles. Olaus and Adolph's pioneering research helped move science toward managing ecosystems as a whole rather than managing for individual species.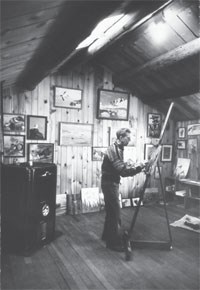 Olaus Murie's Studio
Olaus Murie used his artwork as a scientific tool, sketching and painting wildlife and their habitats in the field and in this studio. He preferred to paint and sketch rather than take photographs. Through science, art and writing, the Muries captured and personified the spirit of wilderness.
How to get there: Drive north from Jackson 12 miles and take a left at Moose Junction toward Moose. Turn left again at the four-way stop signs into the Craig Thomas Discovery and Visitor Center parking lot. Park and walk toward the visitor center. From the courtyard you will see an interpretive wayside exhibit and a footpath leading into the forest. Walk 1/2 mile one-way to the Murie Ranch. Or drive west from Moose Junction until you reach the Moose-Wilson Road junction, turning left onto the road. In about 1/10 of a mile, turn left onto an unpaved road that leads to the Murie Ranch.
For more information on the Murie Families and their contributions, view our video podcasts:
Murie Ranch Introduction
Wilderness and the Murie Ranch
Science and the Murie Ranch
Inspiration and the Murie Ranch
Last updated: March 8, 2022