Mormon Row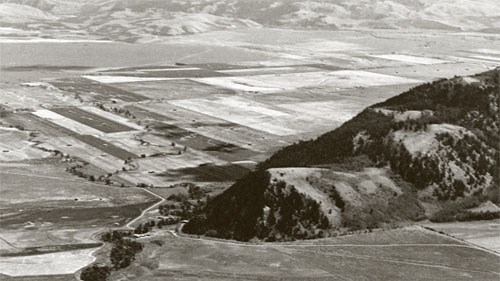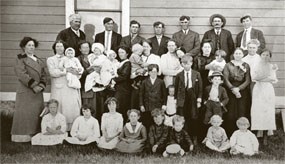 Leaders of The Church of Jesus Christ of Latter-day Saints, or Mormons, sent parties from the Salt Lake Valley to establish new communities and support their expanding population. Mormon homesteaders, who settled east of Blacktail Butte near the turn of the 19-century, clustered their farms to share labor and community, a stark contrast with the isolation typical of many western homesteads. These settlers first arrived in the 1890s from Idaho establishing a community (named Grovont by the U.S. Post Office) known today as "Mormon Row."
Homesteaders established 27 homesteads in the Grovont area because of relatively fertile soil, shelter from winds by Blacktail Butte and access to the Gros Ventre River. Despite the harsh conditions of Jackson Hole, Mormon settlers grew crops by using irrigation. These hardy settlers dug ditches by hand and with teams of horses, building an intricate network of levees and dikes to funnel water from central ditches to their fields between 1896 and 1937. Water still flows in some of these ditches.
Mormon Row Historic District was added to the National Register of Historic Places in 1997 as an Historic District.
How to get there: Drive north from Jackson on highway 191 past Moose Junction and turn right onto Antelope Flats Road. Follow the road about 1 ½ miles until you see a north-south running dirt road marked by a distinctive pink stucco house on the left with a small dirt parking area. A trail brochure and interpretive sign can be found at the parking lot.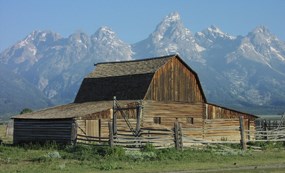 Moulton Barns
Today, two picturesque barns highlight Mormon Row. Settlers John and Thomas Alma (T.A.) Moulton built these barns on adjacent homesteads. After nearly 30 years of working the land, John replaced his log home and barn with a new carpenter-constructed, pink stucco frame house and impressive, two-story gambrel barn north of Antelope Flats Road. South of John's homestead, T. A. took over 30 years to build his gable-with-shed style barn. Photographers from around the world stop by T. A. Moulton's barn to capture this iconic historic structure with the Teton Range in the background.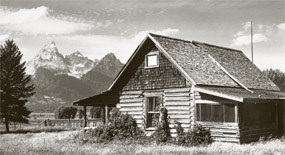 Chambers Homestead
The most extensive historic complex remaining on Mormon Row is the Andy Chambers homestead. Andy Chambers claimed land in 1912 and secured the title under the Homestead Act by building a log cabin and stable and clearing ground to grow grain, a backbreaking chore in the rocky soil. The family lacked running water until 1927 and harnessed electricity with a windmill in 1946. The Rural Electric Administration did not provide power to Mormon Row until the 1950s. By this time, many families had sold their homesteads to become part of the park. The windmill still stands on the homestead.
The Chambers Homestead was added to the National Register of Historic Places in 1990 as an Historic District, and was included as part of the larger Mormon Row district in 1997.
Last updated: February 24, 2015