JY Dude Ranch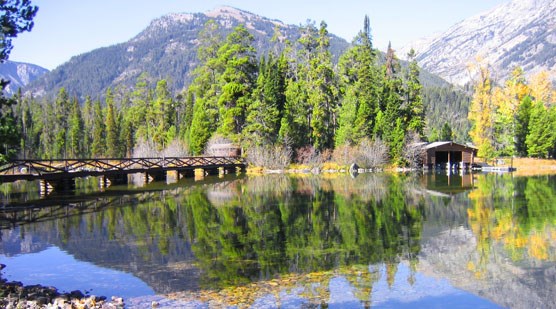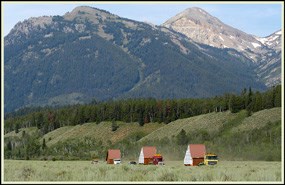 JY Dude Ranch: The First and The Last
Dave Spalding established a homestead near Phelps Lake in 1903. The picturesque setting could not make up for poor, rocky soils that were unsuitable for agriculture. In 1906, he turned the land over to Louis Joy who partnered with Princeton-educated Struthers Burt opening the first dude ranch in Jackson Hole. Joy and Burt brought together western ranching experience and eastern connections to attract visitors. The ranch earned its name from the abbreviation of Joy's last name to "JY".
Jackson Hole was a center for dude ranching from the early 1900s until the 1940s. During the first summer, the JY Ranch housed six dudes. In 1927, they housed 65 guests each paying $65 per week for food, lodging, and the use of boats and horses. Dude ranches provided a western outdoor experience without the discomforts of actual ranch life, and a more relaxed atmosphere than Eastern hospitality.
In the 1920s, attitudes began to change. John D. Rockefeller, Jr. toured Jackson Hole with Yellowstone Superintendent Horace Albright. Disturbed by the development he saw, Rockefeller founded the Snake River Land Co. to purchase land for conservation in the valley. Over a six-year period, Rockefeller purchased 35,000 acres including the JY Ranch in 1932. The JY Ranch became his family's private summer retreat for nearly 70 years. Between 1969 and 1983, Laurance S. Rockefeller transferred roughly 2,300 acres to Grand Teton National Park through a variety of means. The final 1,106 acres passed to the park in 2007 marking the end of the JY Ranch. The cabins are now relocated throughout the park as housing, warehouses and work centers.
How to get there: All of the buildings have been removed from the JY Ranch and the land returned to its natural habitat. The JY Ranch has been converted to the Laurance S. Rockefeller Preserve at Mr. Rockefeller's behest. Visit the LSR Preserve for a contemplative natural experience that begins at the Laurance S. Rockefeller Preserve Center and follows trails to Phelps Lake. Drive on the Moose-Wilson Road four miles south of Moose to access this site.
Last updated: March 22, 2022