Jenny Lake Historic District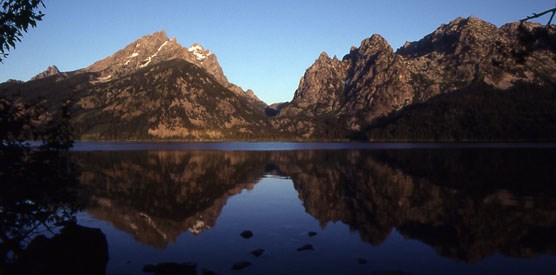 In 1998, many of the buildings in South Jenny Lake area were added to the National Register of Historic Places as the Jenny Lake Ranger Station Historic District.
The Park's First Visitor Area
Jenny Lake was the first area developed for recreation in Grand Teton National Park. Since the early 1900s, Jenny Lake has been a popular place for hiking, boating, swimming and photography. Today, this area holds many reminders of the past.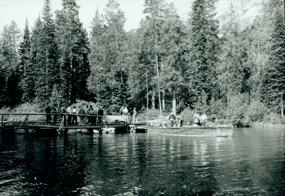 The Early Days: Boathouse & Reimer Cabin
In 1998, the Boathouse and Reimer Cabin were listed on the National Register of Historic Places.
Jenny Lake's pristine water and jagged scenery captivated visitors before the establishment of Grand Teton National Park. Recognizing an opportunity, homesteader and entrepreneur Charles J. Wort established a summer boat business in the 1920s through the U.S. Forest Service. He built a boathouse to store his tour boats during the winter. Kenneth Reimer took over operations in 1935 and built a residence near the boathouse. National Park Service designers oversaw construction of this cabin. The boat concessioner still uses these buildings as a summer residence and for storage.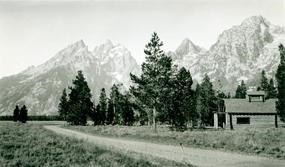 Jenny Lake Visitor Center: Crandall Studio
As a boy, Harrison Crandall saw a picture of the jagged Teton Range taken by William H. Jackson. Lured by the landscape, he moved west and built his studio east of String Lake in the late 1920s. Crandall documented the romantic and humorous side of "dudes"—a nickname given to early visitors. He sold hundreds of postcards and prints from his cabin while capturing the spirit of Jackson Hole on film. Crandall's work as park photographer created a legacy of iconic western images. At various times, the Crandall cabin served as a dancehall, his studio, a general store, and today as the Jenny Lake Visitor Center.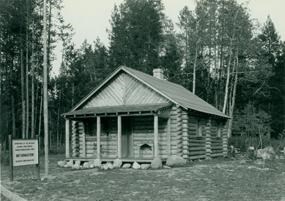 Jenny Lake Ranger Station: Lee Manges cabin
In 1990, the Jenny Lake Ranger Station was listed on the National Register of Historic Places.
In the 1930s, the park's first ranger station and museum opened in a rustic cabin. The cabin was originally Lee Manges' homestead cabin and was transported to the south shore of Jenny Lake from near today's Windy Point Turnout. This cabin now serves as the Jenny Lake Ranger Station where climbing rangers provide backcountry safety information and issue permits. This park's tradition of hiring skilled climbers to perform mountain rescues dates from the 1940s.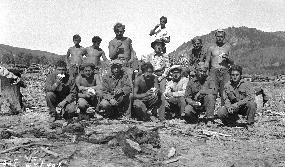 Jenny Lake Campground Comfort Station
During the Great Depression, the Civilian Conservation Corps (CCC) recruited young men between the ages of 17 and 25 to work on projects throughout the country. The largest CCC camp in the park was south of Jenny Lake. These men constructed many facilities including Jenny Lake Comfort Station circa 1933. Though visitors may overlook its historical significance, this comfort station remains the sole restroom facility in the Jenny Lake Campground, reminding us of the enduring contribution of the CCC.
Last updated: February 24, 2015