Jenny Lake Lodge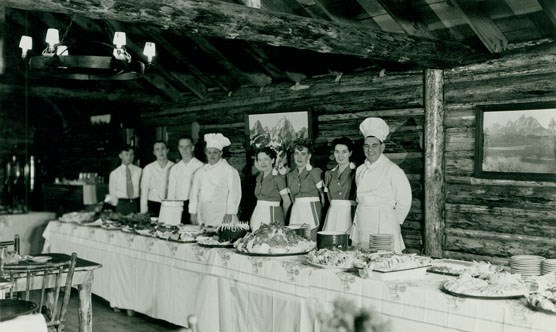 In 2010, the Jenny Lake Lodge was added to the National Register of Historic Places.
Today as in the past, the Jenny Lake Lodge serves as an elegant, rustic resort reflecting the rugged majesty of the surrounding landscape. During the 1920s and 30s, Eastern "dudes" sought Western ranches with the comforts of home. Tony Grace capitalized on this demand by establishing a homestead with two rental cabins on the northeast side of Jenny Lake in 1922. The Snake River Land Company bought the ranch in 1930. By 1939, the lodge boasted comfortable accommodations for 65 dudes including fine food and private baths with hot and cold running water.
How to get there: Drive north from Jackson to Moose Junction. Turn left onto the Teton Park Road toward Moose. Drive through the entrance station eleven miles, turn left at North Jenny Lake Junction. Follow the scenic drive 1.5 miles and bend left onto the one-way portion of the road. The lodge will be on your left.
Last updated: August 10, 2016