Jackson Lake Lodge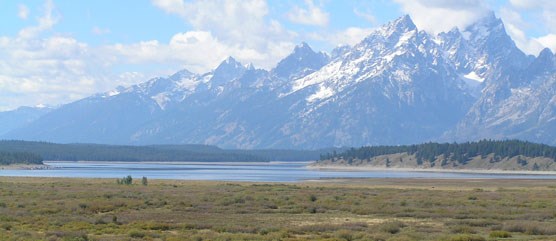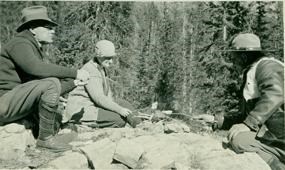 The Jackson Lake Lodge was listed in the National Register of Historic Places as an historic district in 2002 and was declared a National Historic Landmark in 2005.
Lunch Tree Hill: A Vision for the Future
During the summer of 1926, John D. Rockefeller, Jr. and his family spent several days touring Jackson Hole with Yellowstone National Park Superintendent Horace Albright. Albright arranged the tour to inspire Rockefeller to preserve land along the base of the Teton Range. Albright showed the Rockefellers how telephone lines, billboards, a dilapidated dancehall and uncontrolled development spoiled the majestic views.
The party hiked up Lunch Tree Hill for a picnic, enjoying an unobstructed view of the Teton Range. After the tour, Rockefeller and Albright launched a plan to purchase Jackson Hole land and set aside this exquisite landscape for future generations. Visit the hill today to view the panoramic vista of Jackson Lake and the Teton Range.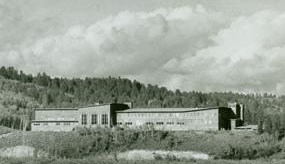 Jackson Lake Lodge: Rockefeller's Middle Class Accommodations
In 1950, John D. Rockefeller, Jr. called on architect Gilbert Stanley Underwood to design the Jackson Lake Lodge. This building marked the transition in the National Park System from rustic to modern design. Underwood revolutionized park architecture by combining modern materials with rustic accents, such as the wood grain-textured concrete seen on this building. Rockefeller developed the lodge to help make parks accessible to all Americans. Although the lodge was originally criticized for being too modern, it harmonizes with the natural surroundings with a low profile receding amid the aspen and pine trees. Landscapers planted native species mimicking the local environment.
How to get there: The Jackson Lake Lodge can be accessed just north of Jackson Lake Junction from Highway 89 in the northern part of the park. Visit the lodge for panoramic views of the Teton Range through large picture windows in the lobby. The lodge welcomes the public and provides accommodations and visitor services during the summer.
Last updated: February 24, 2015