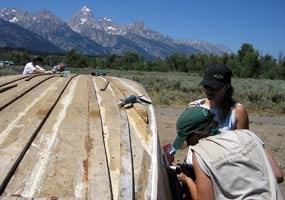 The Youth Conservation Program (YCP) in Grand Teton National Park was described by one participant's parent as the, "opportunity of a lifetime. It teaches folks the value of hard work … and the importance of many of the NPS programs in place which keep our parks healthy, fun and safe." Based on a similar program in Acadia National Park, the YCP is made possible by generous contributions from private donors through the Grand Teton National Park Foundation.
The YCP gives local teenagers an opportunity to spend the summer working while learning about and making significant improvements to the resources of Grand Teton National Park. Managed through the park's Trails Program, the majority of the work done by the YCP is in the area of trail maintenance. The YCP also collaborates with other park divisions on a variety of resource protection projects including fire management and historic resource preservation.
The YCP offers ten weeks of employment opportunity for teenagers between the ages of 16-19 in one of the "crown jewels" of the National Park Service system.
Application for 2018
2018 YCP Application
Applications are due March 17, 2018 for the summer.
---