2.5 miles round trip, 1.5 hours, easy
This level trail offers visitors a loop through forest and wetland areas with a chance to see wildlife along Polecat Creek.  
Trailhead directions: Sixteen miles north of Colter Bay Junction, turn left (west) at the Flagg Ranch/Grassy Lake Rd sign.  Take the first right, and park in the large parking lot near the horse corral and the information station.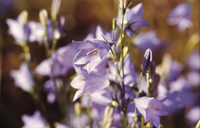 Harebells - NPS Photo/Kodak
The trail begins across the road from the north end of the parking lot.   The trail starts through open lodgepole pine forest.  Open spaces between trees allow sunlight to reach the forest floor, aiding the growth of wildflowers such as harebell and sulphur buckwheat.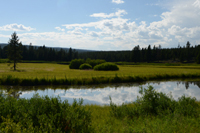 Polecat Creek: NPS Photo/D. Lehle
After 0.4 miles, the trail comes near a ridgeline, offering views of meandering Polecat Creek and pond areas.  Ducks and other waterfowl can be seen on the water, often with a brood of ducklings trailing closely behind.  In the early or late hours look for ripples in the water caused by beavers, muskrat, or otter, all of whom burrow along the creek's banks.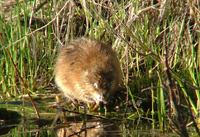 Muskrat - NPS Photo/K. Chiasson
Eventually the trail goes behind Polecat Creek and heads north and east into the forest.  In this more mature conifer forest, look for limber pine and douglas fir trees beginning to grow underneath the lodgepoles.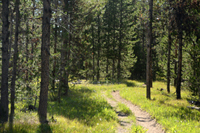 Lodgepole Pine Forest - NPS Photo/D. Lehle
At the next trail junction, turn right to walk 0.5 miles to the parking lot and complete the loop, or continue straight to connect to the Flagg Canyon Trail.