Crater on North Side of Great Sand Dunes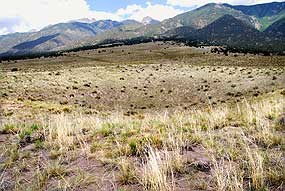 A crater that some geologists believe is meteoric is located in the northern grasslands of the national park.
Research is ongoing in an attempt to confirm that this crater is meteoric. There are historic accounts from the late 1920s of a meteoric impact in this area. It is possible a meteor is still buried beneath the surface somewhere. Future research plans include ground penetrating radar and/or a magnetometer to look for a meteor.
The Great Sand Dunes' geologist has ruled out the crater being normal sand deposit feature. The crater lacks the typical characteristics of a meteoric impact in rock or soil, but meteoric impacts in sand are not well understood.
Upcoming Events:
On Saturday morning, August 22, 2009 join Park Ranger Patrick Myers for a guided walk to a feature in the national park that some geologists believe is a meteor crater. The hike is about 2 miles round-trip, and begins at 9:30 a.m. at the Liberty Gate, located at the south end of Camino Baca Grande. Hikers will return to the trailhead about 11:30 a.m. The feature continues to be investigated by scientists as a possible meteor crater, but definitive identification has not yet occurred. Hikers will learn about research related to the suspected crater as well as some of the plants and animals of the grasslands environment. Bring water, sun protection, and a snack. Leashed dogs are welcome.
The Liberty Gate is located on the north side of Great Sand Dunes National Park. To reach the Liberty Gate from Crestone, take Camino Baca Grande south from County Road T for about two miles to the junction with Camino Real. Turn right on Camino Real, drive about one mile, then turn left on Wagon Wheel Road for about two miles to the junction with Camino del Rey. Turn left on Camino del Rey and follow it until it ends at Camino Baca Grande, which in this southern section is a good dirt road. Turn right, and drive about a mile to the Liberty Gate parking area.
For more information on the hike, please contact Patrick Myers at Great Sand Dunes National Park, 719-378-6343.
Last updated: March 31, 2012