Crater on North Side of Great Sand Dunes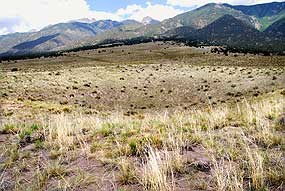 A crater of unknown origins is located in the sandy grasslands on the north side of the national park. Access it by hiking off-trail about 1/4 mile (0.3km) northwest of the Liberty Gate Trailhead:
https://www.nps.gov/grsa/planyourvisit/maps.htm
For many decades, research has sporadically occurred by different groups, with inconclusive results. In the 1960s, the Smithsonian studied the crater, concluding it was a windblown sand feature now covered by grass. However, the park geologist has ruled out it being formed from wind, because it has an even ejection rim around its perimeter.

There are historic accounts from a century ago of a meteoric impact in this area, but no known meteorite has been found. It is possible that it was collected around the time of impact, or that it is still buried deep beneath the surface. Current research is focusing on using ground penetrating radar and/or a magnetometer to look for a meteor.
Another theory is that the crater is a 'sand boil', formed as watery sand deposits are squeezed and pushed up along a fault line.

There are a few smaller but similar crater features nearby, possibly either formed as pieces of the main meteorite split off, or formed as smaller sand boils.
Last updated: March 14, 2020