The First NPS Park Geologist at Great Sand Dunes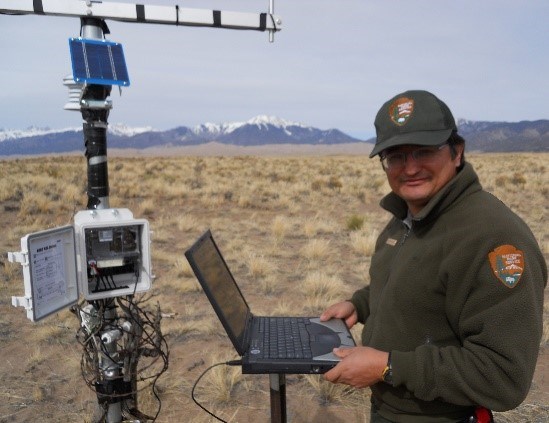 Andrew Valdez is often asked how he got such an amazing job. It was a series of fortunate events with help from good people.His journey developed naturally as a child while growing up on a farm in nearby Capulin, CO. He was fascinated by the landscape around him but was unaware of the field of geology until a high school English teacher, Mrs. Fuji, suggested he study it in a college.

He attended Adams State College the next year. There his interest in science grew. The more he learned about the earth, the more interesting he found it. His mentor at Adams State, Dr. Dion Stewart, had assisted Great Sand Dunes when water development became an issue and the NPS found a need to better understand its natural resources. Lots of basic questions needed to be answered including the status of the dunefield. Was it gaining or losing sand, or was it a balanced system?

Stewart recommended Andrew, and he spent the next 2 summers in the dunes collecting sand samples from sand traps. He found that very little new sand is coming in, because the surrounding sand sheet is vegetated. Unexpectedly, sand movement patterns varied significantly throughout the dunefield.

Valdez's work in the dunes was so important, the NPS hired him full-time in 1994. He became the first geologist to be stationed at Great Sand Dunes, helping to increase awareness about the physical environment by the NPS.

The US Geological Survey (USGS) and other researchers had done lots of great work that Valdez used to begin to understand the big picture. He saw the dunes as a system where:
Rifting was critical in supplying sand for the dunes.

Wind patterns needed to be more closely measured and correlated to dune behavior.

Streams modified the perimeter of the dunefield and help create the large dune forms Great Sand Dunes is famous for.

Vegetation prevents sand from blowing and forming active dunes in most of the sandy areas.

Groundwater is close to the surface, leaving behind evaporite minerals that cement the sand together.
Over the years- and thanks to good support from his supervisor, Resource Management Specialist Fred Bunch- Valdez has been able to set up monitoring programs that quantifies most of these important processes. Great Sand Dunes has a very active monitoring program that allows the NPS to track changes in the system. Most are natural, but it provides the type of base data needed to defend against potential human-caused changes and to learn when changes to the system occur. He also emphasized that the dunefield, while being most impressive, was just the tip of the iceberg as it was part of a larger dune system that included sand sheets, sand ramps, and sandy, alkali flats.

In 1999, Park Superintendent Steve Chaney used Valdez's findings to promote a boundary expansion that Congress passed in 2000, changing Great Sand Dunes National Monument to Great Sand Dunes National Park & Preserve. The park and preserve cover an area four times greater than the monument, protecting more of the associated sand deposits as well as the drainage basins that supply water to the area and influence wind patterns over the dunes.

Since the dunes are so interesting, Valdez continues to work with other scientists who are drawn to the area. Many do research on dunes on Mars or Saturn's moon Titan. Since they can't go there, they use Great Sand Dunes as a proxy. The USGS continues to work at Great Sand Dunes: mapping the subsurface, setting up a seismic station, and helping to measure how long it takes ground water to flow under the dunes. University researchers from Great Britain are studying how sand dunes grow from a flat sand surface into dune mounds and they chose Great Sand Dunes because Medano Creek provides a flat sand surface each year when it dries. These are just a few of the groups Valdez has had the good fortune to work with and learn from, and who contribute to a more complete understanding of the Great Sand Dunes.

Being a geologist at Great Sand Dune is truly an amazing job. According to Valdez, the best part is that each year, more data is processed and something new is learned. The dunes keep changing. and with the data collected and studied, we now know more precisely how they change.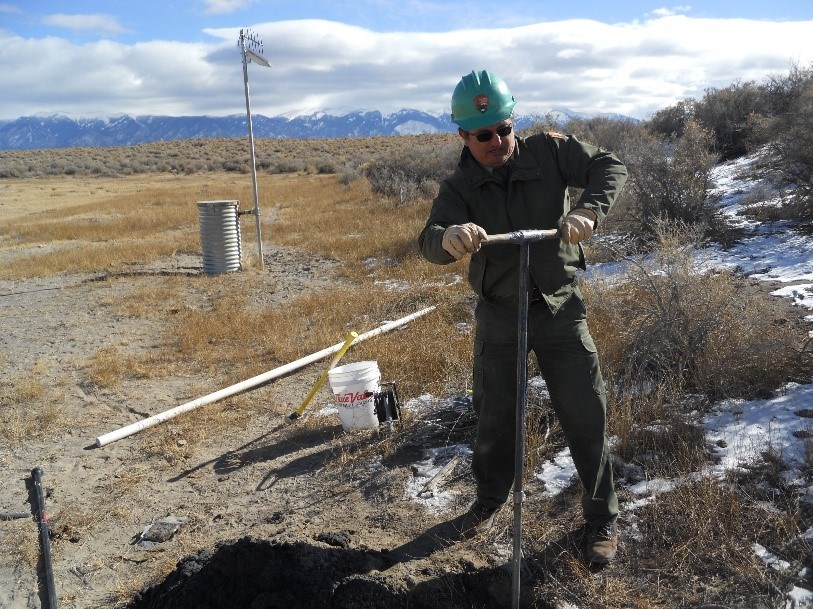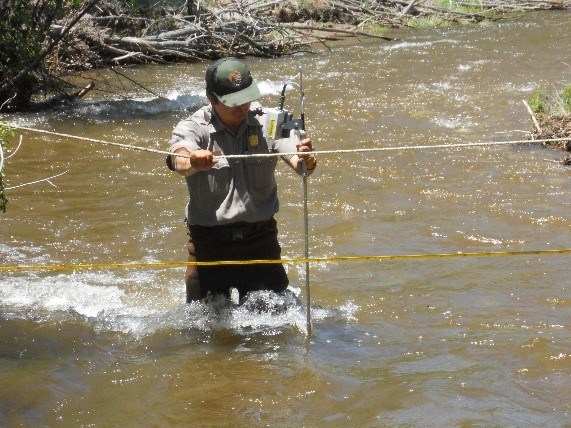 Last updated: November 18, 2020