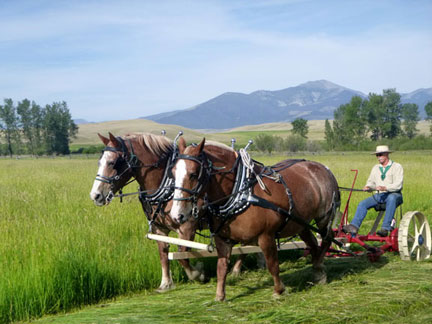 Centennial Events
at Grant-Kohrs Ranch NHS
Historic Mowing - Saturday, July 2
2:00 pm - 3:00 pm
Come see the first process in making hay - mowing - done with horse-drawn equipment.


Cattle Branding - Thursday, July 7
Branding - 11:00 am; Family Activities - 9:00 am - 5:00 pm
Branding cattle was a very important practice on the open range, where cattle grazed together with only a brand to identify ownership. Branding is still an important time on ranches today. Come watch as we brand our calves and join in the fun family activities held throughout the day.

Haying with Horses - Saturday, July 16; Thursday, July 28; Thursday, August 11
1:00 pm - 3:30 pm each day
Come out and watch haying demonstrations using historic horse drawn implements.


National Park Service Birthday Celebration -Thursday, August 25
9:00 am - 8:00 pm
There will be many ranger programs for you to enjoy, the Cowboy Experience will be offered at 1:30 pm and a Kids Corral with fun activities will be available from 9:00 am - 5:00
The Montana Academy of Living History will be offering the following free classes from 10:00 am to 7:30 pm:
Herding with Dogs- Sharon Edsel: Watch herding dogs work livestock and learn some tricks of the trade. 10:00 am –12:00 pm:
History of Montana Brands - Zoe Ann Stoltz, Montana Historical Society –You may have heard of the XIT brand or Poindexter and Orrs' Square and Compass. However, each and every one of the thousands of Montana recorded brands has a story to tell. Learn the history of Montana brands, the futility in asking which was first, and the treasure trove of information documented by the Montana Livestock Brand Records. 12:00 pm –1:30 pm:
Candle Making and Butter Churning - Jari Thymian and Bethany Szczepanski - Learn the historical art of candle making using both tallow and wax many fun facts about butter and the many different historical methods of churning it. 1:30 pm –3:30 pm.
Cemetery Walk - Ruth Little and Bob Thomas –Explore the lives of the many of the colorful characters interred at the Deer Lodge Cemetery, many of whom were associated with what is now Grant-Kohrs Ranch NHS. 3:30 pm –5:30 pm:
Live Music, Hot Dogs, and Birthday Cake - John and Ed Kemmick will perform songs of the legendary Jimmie Rodgers, interspersed with tales of his life and influence. Singer and guitarist Jimmie Rodgers performed with greats such as Louis Armstrong in the early 20th century before he became known as the Father of Country Music. 5:30 pm –7:30 pm
Come join the celebration of the 100th Birthday of the National Park Service.
Trail Trott - Friday, September 16
3:00 pm - 4:30 pm
Are you looking for a fun, family activity to get out and enjoy a fall day? Grant-Kohrs Ranch is hosting a 3k or 5k walk.
Looking for a little adventure? Try the Cattle Drive Adventure while you walk! Learn about the historic cattle drives as you participate in cowboy skills challenges along the way.Choose your own experience at Grant-Kohrs Ranch NHS: walk 3k, 5k or challenge yourself to the Cattle Drive Adventure.
Pumpkin Sunday - Sunday, October 16
1:00 pm - 4:00 pm.
Enjoy the fall season with themed activities for children and special programs and activities for visitors of all ages. There will be pumpkin painting, hay rides, crafts and more.

Holiday Open House - Sunday, December 4
1:00 pm - 4:00 pm
Celebrate the season with music, children's activities, wagon rides and refreshments. The Kohrs home will be decorated throughout the month of December.


There is no fee to attend any of the events.