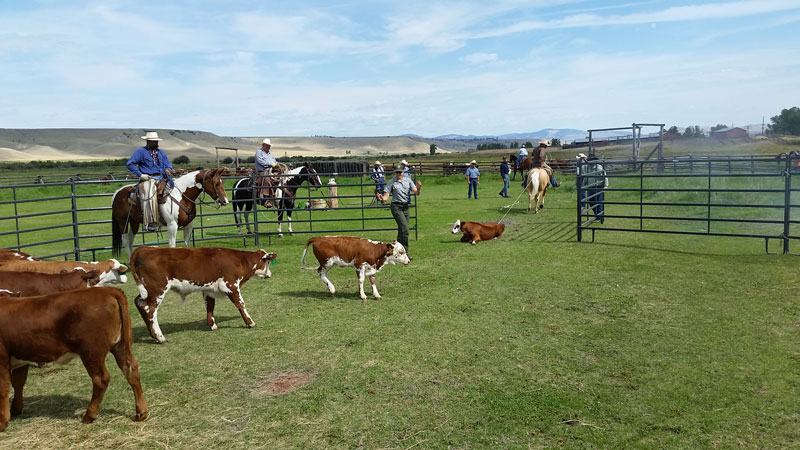 2017 Special Events

Junior Ranger Day - Saturday, April 15
10:00 am - 2:00 pm
Fun activities for kids to explore the National Park Service through Grant-Kohrs Ranch and earn a Junior Ranger Badge.

Log Skidding Demonstration - Saturday, July 1
2:00 pm - 3:00 pm
Come see the draft horses skid logs and learn different techiniques and approaches.
Cattle Branding - Tuesday, July 11
Branding - 11:00 am; Family Activities - 9:00 am - 5:00 pm
Branding cattle was a very important practice on the open range, where cattle grazed together with only a brand to identify ownership. Branding is still an important time on ranches today. Come watch as we brand our calves and join in the fun family activities held throughout the day.
Haying with Horses - Wednesdays: July 19, August 2, August 9
1:00 pm - 3:30 pm each day
Come out and watch haying demonstrations using historic horse drawn implements.
Trail Trot - Tuesday, August 22
6:30 pm - 8:30 pm
Enjoy a summer evening out on the ranch with this fun family activity as you take a 3k or 5k walk.

Pumpkin Sunday - Sunday, October 22
1:00 pm - 4:00 pm.
Enjoy the fall season with themed activities for children and special programs and activities for visitors of all ages. There will be pumpkin painting, hay rides, crafts and more.
Holiday Open House - Sunday, December 3
1:00 pm - 4:00 pm

Celebrate the season with music, children's activities, wagon rides and refreshments. The Kohrs home will be decorated throughout the month of December.

There is no fee to attend any of the events.