Jacqueline Lavelle Named New Superintendent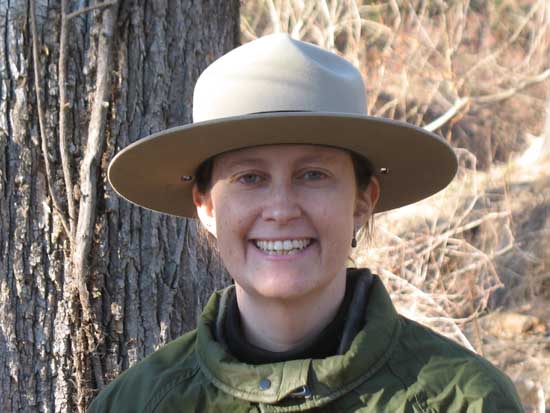 News Release Date:
May 13, 2013
"Jacque is a dedicated professional with a deep commitment to the preservation of our parks and America's heritage," said NPS Intermountain Region Director John Wessels. "Her broad range of management skills will be will be invaluable in ensuring that Grant-Kohrs visitors enjoy their park visit and gain a 'living history' understanding of a working ranch that commemorates the West's cattle industry from the 1850s to the present."
Lavelle was selected as a Bevinetto Congressional Fellow in 2010. She spent the first year of her fellowship on Capitol Hill, working with the House Natural Resources Committee. She spent her second fellowship year in the NPS Office of Legislative and Congressional Affairs and in the Park Service director's office.
Lavelle began her NPS career as a Student Conservation Association volunteer at Prince William Forest Park in Virginia. She also worked briefly for the National Parks Conservation Association. In 1993, Lavelle returned to Prince William Forest in permanent employee status as a fee collector. She went on to become a fee program manager and a park ranger, and during this time she also completed crew boss qualifications and served on interagency fire teams in Oregon, Idaho, Kentucky, Florida, Maryland and Virginia.
In 2000, Lavelle changed career fields to work in concession management. At George Washington Memorial Parkway in Virginia, she oversaw operations for three marinas, four snack bars, and a restaurant. In addition to managing the park's concession contracts, Lavelle served as park coordinator for Federal Highway Administration planning projects.
In 2004, she transferred to Zion National Park in Utah to oversee lodge, restaurant and horseback trail ride concessions. In 2005, she relocated to Denver to help the Intermountain Region manage concession operations. Three years later she was appointed regional chief of the concession program. In 2010, Lavelle served as interim superintendent at Bryce Canyon National Park in Utah.
After earning a bachelor's degree in history at the University of Rochester in 1988, Lavelle did seasonal stints with Fairfax County Park Authority, Virginia State Parks and the NPS, leading farm tours for school groups, conducting oral history interviews, leading canoe trips, cataloging museum artifacts and leading environmental programs for urban youth.
"It is a great privilege to be selected as superintendent of Grant-Kohrs Ranch," Lavelle said. "I look forward to welcoming the public to this historic place that preserves stories of the frontier cattle era, and to joining the ranch staff in protecting and sharing this unique resource with local communities and all of our partners and visitors."
Lavelle is married to Jeff Pinkard, a former Park Service visitor protection ranger, permit specialist and cartographer. They enjoy cowboy action shooting exhibitions, hiking and snowshoeing with their lab mix Dixie and reading by the fire with their orange tabby, Eddie.
Last updated: February 24, 2015