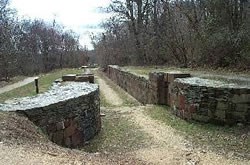 Few ventures were dearer to George Washington than his plan to make the Potomac River navigable as far as the Ohio River Valley. In the uncertain period after the Revolutionary War, Washington believed that better transportation and trade would draw lands west of the Allegheny Mountains into the United States and "...bind those people to us by a chain which never can be broken."
"The way," Washington wrote, "is easy and dictated by our clearest interest. It is to open a wide door, and make a smooth way for the produce of that Country to pass to our Markets ...."
As a waterway west the Potomac River could be that "door." It was the shortest route between tidewater, with access to East Coast and trans-Atlantic trade, and the headwaters of the Ohio River, with access to the western frontier. But both political and physical obstacles had to be overcome.
The Patowmack Company
Opening the Potomac required cooperation of Virginia and Maryland, which bordered the river. In 1784, Washington convinced the states' assemblies to establish a company to improve the Potomac between its headwaters near Cumberland, Md., and tidewater at Georgetown. The Patowmack Company, organized May 17, 1785, drew directors and subscribers from both states.
The office of president, Washington wrote in his diary, "fell upon me." He presided over the project until he became the nation's chief executive.
The Canal and the Constitution
Delegates from Virginia and Maryland, meeting at Washington's home in 1785, drew up the Mount Vernon Compact, providing for free trade on the river. Virginia and Maryland legislators ratified the compact and then invited all 13 states to send delegates to a convention in Annapolis in 1786 "to consider how far a uniform system in their commercial regulations may be necessary to their common interest."
The Annapolis Convention led to a general meeting in Philadelphia the following May. Thus, George Washington's lobbying for interstate cooperation on the Potomac helped prepare the way for the Constitutional Convention of 1787.