Matildaville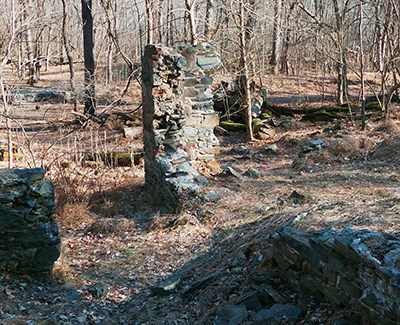 An entire town grew up around the construction site to serve as headquarters for the Patowmack Company and home for the workers. The town was named Matildaville by its founder, the Revolutionary War hero "Light Horse" Harry Lee. Harry Lee, the father of Robert E. Lee, named the town for his first wife, Matilda Lee.
Matildaville, at its height, boasted the company superintendent's house, a market, gristmill, sawmill, foundry, inn, ice house, workers' barracks, boarding houses, and a sprinkling of small homes. Boaters stopped here to wait their turn through the locks, to change cargo, or to enjoy an evening in town before continuing their journey.

The Fate of the Canal and Matildaville
The greatest obstacle to the Patowmack project proved to be financial. High construction costs, particularly at the Great Falls section, and insufficient revenues bankrupted the company. Extremes of high and low water restricted use of the canal to only a month or two each year. The tolls collected could not even pay interest on the company debt.
The Patowmack Company succumbed in 1828, turning over its assets and liabilities to the newly formed Chesapeake and Ohio Canal Company. The new company abandoned the Patowmack Canal in 1830 for an even more ambitious undertaking: a man-made waterway stretching from Georgetown to Cumberland on the Maryland side of the river.
Built to support the canal industry, Matildaville's fate was tied to that of the Patowmack Company. Today, only a few fragile remains of Matildaville are visible.
Although the Patowmack Company was a financial failure, its builders pioneered lock engineering and stimulated a wave of canal construction important to the country's development.
George Washington did not live to see the completion of the navigation project that had been his obsession since youth. But he did take pride in visiting the canal during the construction to inspect its progress. He died in 1799, two years before the canal opened at Great Falls.
In the long run Washington's vision of a strong nation linked by trade came true. His frequent toast, "Success to the navigation of the Potomac!" became a footnote of American history.
Last updated: January 10, 2020