Trail Courtesy and Leave No Trace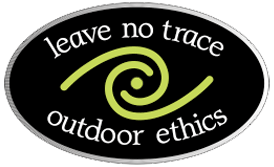 The Bright Angel Trail, the North and South Kaibab Trails, and their facilities accommodate high levels of visitation.
Furthermore, they provide diverse recreation opportunities for hikers, backpackers, mule riders, and runners. With so many people participating in such a wide range of activities, it is important to be considerate of other users.
Being considerate of others is central to Leave No Trace. (LNT)
The following guidelines build upon LNT principles, help protect park resources, and enhance everyone's experience:

1. Yield to mules and uphill hikers

Step off the trail on the uphill side away from the edge.
Follow the directions of the wrangler and remain quiet and still.

2. Slow down and ask to pass other travelers

Communicate in a clear quiet tone.
Don't expect slower travelers to move out of your way.

3. Do not store or abandon gear along the trail

Gear includes extra clothes, equipment, food and trash.
Bring equipment that will allow you to carry your extras along the way.

4. Do not poop on the trails; restrooms are available

Know where the restrooms along the trails are and use them.
Deposit solid human waste in catholes dug 6 to 8 inches deep, and at least 200 feet (60 m) from water and trails.
Or: bring a waste disposal system with you, and know how to use and dispose of it.

5. Pack out toilet paper, fruit peels/ cores and all other trash


Bring equipment that you can carry your trash out in.
Sealable plastic bags keep your waste toilet paper out of contact with other items in your pack.

6. Traveling with another person helps ensure your safety

Plan on traveling with at least one friend.
If you travel at a different pace than your partner, plan to meet at specific locations and times along the trail.

7. Be quiet and respect those who seek solitude

Natural soundscapes are integral to the park environment.
Keeping a quiet tone of voice allows everyone to appreciate the park.
Last updated: March 27, 2014