Colorado River Bug Flows May 2018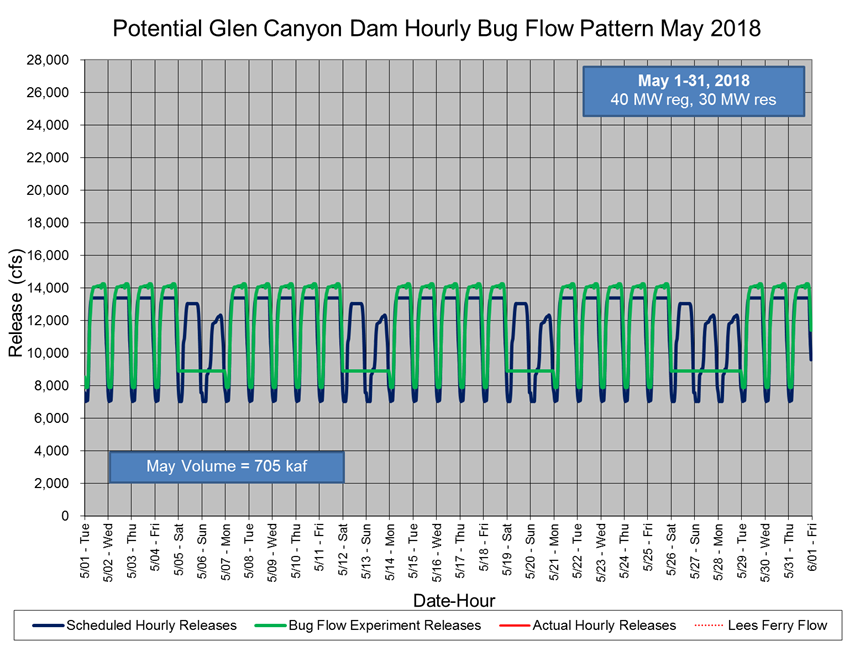 Beginning May 1, 2018 and continuing through August 31, 2018, the Department of the Interior will conduct the first experimental flow at Glen Canyon Dam since completing the Long-Term Experimental and Management Plan in December 2016. The experimental flows, referred to as "bug flows" are intended to provide enhanced habitat for the life-cycle of aquatic insects that are the primary food source for fish in the Colorado River. The flows will change the schedule and flow rates of water releases from Lake Powell through Glen Canyon Dam on weekends during the experimental period.
Bug Flows consist of steady weekend releases from Glen Canyon Dam and normal fluctuating releases during the weekdays. The steady weekend flows are expected to provide favorable conditions for insects to lay eggs along the Colorado River downstream of Glen Canyon Dam, while the minimum flows on weekdays are designed to be similar to flows on the weekends. This flow regime would decrease the amount of stage change in the river on the weekends, thus preventing the insect eggs that are laid along the river margins from drying out.
A Bug Flows hydrograph that incorporates weekend steady low flow releases that are 1,000 cubic feet per second (cfs) higher than weekday low flow releases in all months (May – August) is proposed for initial testing. The recommended hydrograph was developed collaboratively by the Grand Canyon Monitoring and Research Center and Western Area Power Administration, using an optimization process that determined a 1,000 cfs increase in weekend flows provides the best egg-laying conditions, river-wide, across all months. To meet downstream water delivery requirements, the stable, low flows on weekends need to be offset by relatively higher peak flows during the week than would otherwise be achieved under normal operations.
Steady low-flow releases on weekends would begin after the normal down-ramp on Friday evening, with the down-ramp ending when flow releases match the designed Bug Flows weekend steady low flow. Dam releases would be steady throughout (except for system regulation and use of reserves) Saturday and Sunday and then dip briefly Monday morning for hydropower scheduling purposes to the designed weekday low flow, prior to ramping up at the normal rate until peaking later on Monday at the designed weekday high flow. Releases throughout the remainder of the week (Tuesday – Friday) would then be similar to releases on Monday. The exact timing of each of these peaks and low flow troughs varies from month to month according to scheduled monthly release volumes.
For information about flow volumes visit:
Last updated: April 25, 2018