Mary Colter's Buildings at Grand Canyon
Mary Colter was the chief architectural designer and interior decorator for the Fred Harvey Company from 1902 to 1948. Her creative free-form buildings at Grand Canyon took direct inspiration from the landscape and served as part of the basis of the developing artistic aesthetic for appropriate development in areas that became national parks.

She designed eight unique Grand Canyon Buildings. (All are still in use today). Hopi House, Hermit's Rest, Lookout Studio, Phantom Ranch, Desert View Watchtower, Bright Angel Lodge, and the two Fred Harvey employee dormitories, Colter Hall and Victor Hall. (Now dormitories for Xanterra employees).

To protect Mary Colter's work, four of her buildings at Grand Canyon (Hopi House, Lookout Studio, Hermit's Rest, and Desert View Watchtower) were declared National Historic Landmarks in 1987.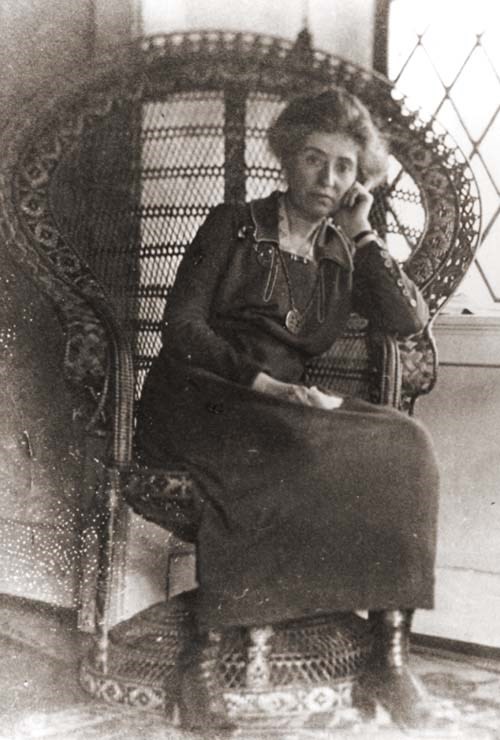 Mary Elizabeth Jane Colter
Mary Colter was born in Pittsburgh in 1869 and grew up in Texas, Colorado, and St. Paul, Minnesota. While attending the California School of Design in San Francisco she apprenticed in an architect's office and then went into teaching back in St. Paul.

Through informal contacts with the Fred Harvey Company, Colter eventually landed a job as interior designer of the Indian Building adjacent to the Santa Fe's new Alvarado Hotel in Albuquerque, along the main line. Although the Mission Revival style had been popular in California since the 1890s, the Alvarado Hotel and its adjacent Indian Building (both destroyed) were the first of their kind in New Mexico. Her reputation swiftly grew, and her use of natural materials in forms that mimicked nature served as the basis for later work by architect Herbert Maier and others who designed what we now term "rustic" architecture.

As a full-time architectural designer/decorator in the Fred Harvey Company, Mary Colter would design and oversee the construction of eight buildings on the South Rim of Grand Canyon National Park in Arizona. Colter was a perfectionist, who spent a lifetime advocating and defending her aesthetic vision in a largely male-dominated field. In 1948, at the age of 79, Colter officially retired from the Fred Harvey Company. On January 8, 1958, at the age of 88, Mary Elizabeth Jane Colter died.
Explore A Park Map
Explore all of Mary Colter's buildings on the interactive map below. To learn more information about a site click on the images below the map or a number on the map. Zoom in to see a site or area more clearly.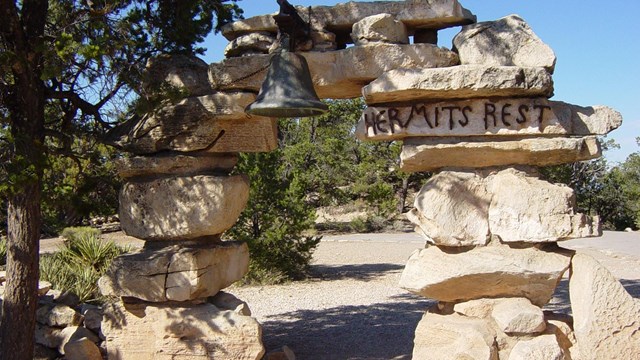 Hermit's Rest History
Hermit's Rest provided a place for visitors to rest when traveling on the Fred Harvey Company's sightseeing tours.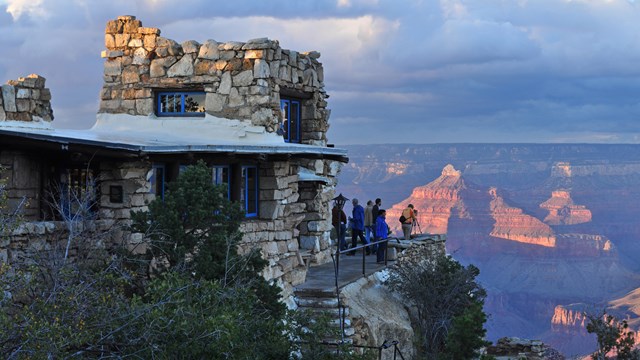 Lookout Studio History
Inspired by the natural landscape around her, Mary Colter modeled this building after southwestern Native American architectural styles.
Bright Angel Lodge History
The Fred Harvey Company built the Bright Angel Lodge on the former site of the Bright Angel Hotel and Camp established by James Thurber.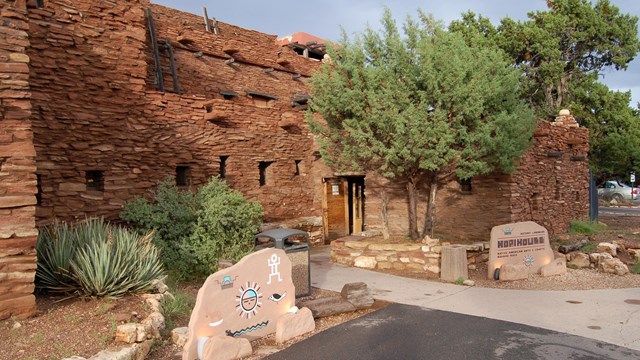 Hopi House History
The Hopi House pays tribute to the Hopi and their ancestors that have inhabited the Grand Canyon for centuries.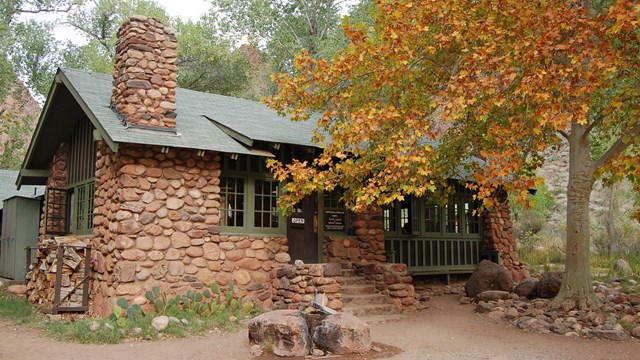 Phantom Ranch History
Only accessible by mule, by foot, or by rafting the Colorado River, Phantom Ranch is the only lodging facility below the canyon rim.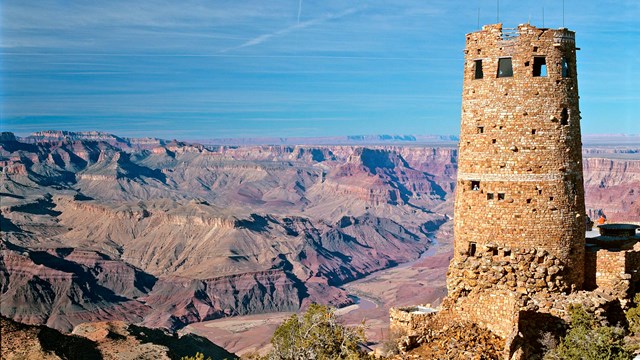 Desert View Watchtower History
Modeled after Ancestral Puebloan dwellings found at Hovenweep and Mesa Verde, the Desert View Watchtower opened in 1932.
Last updated: April 4, 2022