Mary Colter's Hopi House

When Mary Colter was commissioned in 1904 by the Fred Harvey Company to design an "Indian Arts Building" as the hospitality giant liked to call their souvenir shops, the talented and stubborn architect was eager to accept the challenge. She was one of just a few women in a male-dominated field, and "lady-like" wasn't in her vocabulary. Neither were the words "traditional European influences." Colter's vision extended well beyond that. Inspired by the natural beauty of the Grand Canyon, she wanted to design something that appeared native, natural and timeless.

Hopi House, modeled after the 10,000 year-old pueblo dwellings of the Hopi village in Old Oraibi, was a radically new experience for tourists. Colter's attention to detail and human history created a strange and exotic world they could easily and safely enjoy.

Sandstone blocks give the three-story building its reddish color, while mesquite/pinyon wood ladders provide access to the terraces on each level. Tiny windows, like those of true Hopi structures, keep the hot desert sun from entering the building.

Inside, Mary Colter's perfectionist tendencies are apparent even today. Corner fireplaces with chimneys are made from broken pottery jars stacked and mortared together. Baskets hang from peeled log beams and low ceilings thatched with young saplings. Kachina dolls, ceremonial masks and woodcarvings are displayed in niche-filled mud-plastered walls. Pottery and jewelry are arranged for inspection on counters draped in hand-woven Navajo blankets and rugs.

The only concession Mary Colter made to the realities of the building's modern day use is that, unlike traditional Hopi homes, there is no roof entrance. Instead Hopi House was given a front door so tourists could easily access and purchase the beautiful Native American arts and crafts to show to the folks back home.

---
The Hopi House (1905) is a large, multi-story building of stone masonry, shaped and built like a Hopi pueblo. Originally designed to house the main salesrooms for Fred Harvey Indian Arts, Colter designed the building, set directly across from El Tovar Hotel, to resemble a Hopi dwelling, after those at Oraibi, Arizona. Initially, Hopi House was an actual dwelling: some of the Hopis who worked in the building lived on the upper floors.
The Hopi House is rectangular in plan, and the multiple roofs are stepped at various levels giving the building the impression of pueblo architecture. The sandstone walls are reddish in color, and tiny windows, like those of true Hopi structures, allow only the smallest amount of light into the building.

On the interior, the floor finish on the first story is concrete. Most of the rooms have the typical ceiling of the Hopi style: saplings, grasses, and twigs with a mud coating on top, resting on peeled log beams. Corner fireplaces, small niches in the walls, and a mud-plaster wall finish, typical of Hopi interiors, are also character defining features.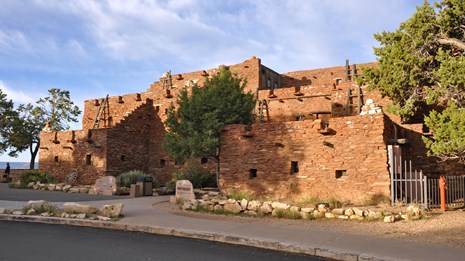 Hopi House (1905)
Continue to Hopi House photo gallery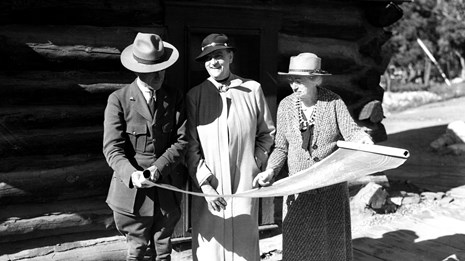 Mary Colter's Buildings at Grand Canyon
Return to the Mary Colter index page
Last updated: April 4, 2017