Grand Canyon's Historic River Ranger Station to Get a Face Lift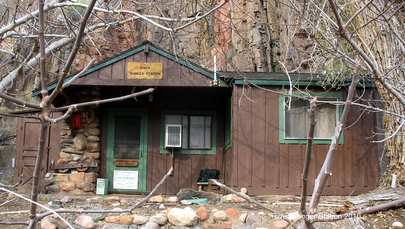 News Release Date:
May 3, 2010
Contact: Maureen Oltrogge, 928-638-7779
Grand Canyon, Ariz. - Grand Canyon National Park's historic River Ranger Station, located along the Colorado River near Phantom Ranch, will soon get a face lift. A National Park Service maintenance crew along with a crew from the Coconino Rural Environment Corps (CREC) and graduates of Coconino County's Youthbuild Program will begin work on the building next week. The project should be completed by mid-summer. 
The River Ranger Station, originally known as the Packer's Cabin, was constructed in 1933 by the Civilian Conservation Corps (CCC). The River Ranger Station was built as living quarters for park personnel stationed at Phantom Ranch, and served as, what is believed to be, the original ranger station. A second ranger station has since been constructed at a site closer to Phantom Ranch that now serves as the main ranger station, residence and clinic.
The River Ranger Station continues to be used as a residence for park staff including river rangers, canyon rangers, backcountry staff, and trail crew during their patrols and while working in the Phantom Ranch area.
Like other structures at Phantom Ranch, the original portion of the River Ranger Station is a gable-roofed structure with field stone corners and wood frame walls with board and batten siding. Originally a 12 foot by 14 foot structure, a bathroom and bedroom were later added to the building nearly doubling its size. The building was remodeled in 1979 by the National Park Service and Youth Conservation Corps. The latest improvement was a new roof in the summer of 2003.
Much of the reconstruction efforts under this project will include interior renovations; re-siding the newer additions to give a similar appearance to the original structure; replacement of inefficient non-historic aluminum framed windows with energy efficient architectural casement windows; and new dry wall, electrical components, insulation, and rodent-proofing.   
Crews from CREC; a program of Coconino County Community Services, which serves the conservation needs of communities throughout Coconino County, and across Arizona, through partnerships; will work under the guidance of National Park Service craftsman, while learning the techniques of restoring historical structures. Joining the CREC crew will be graduates from Coconino County's Youthbuild Program, a federal initiative that provides job training and education for disadvantaged youth. Through this project, these graduates will build on their skill set and utilize what they learned through the Youthbuild Program. 
Dustin Woodman, Program Manager for the Coconino Rural Environmental Corps said, "Engaging youth and young adults in service on public lands is an important strategy for accomplishing agency conservation goals and providing valuable workforce development opportunities." He added, "Partnerships such as these enable area residents to gain valuable stewardship ethics and work experiences and help to advance their future career and educational goals."
Park Superintendent Steve Martin said, "We are pleased to be working with the crew from the Coconino Rural Environment Corps. They are skilled men and women that have worked alongside park trail crews and vegetation crews for many years rebuilding park trails and removing invasive species throughout the park. Through their hard work and dedication they carry on the tradition of the CCC, and as with the work of the CCC, their work will be enjoyed by park visitors for many years to come. We are also pleased to be working with the recent graduates from the Youthbuild Program. We hope that through this project these young individuals will build on their construction skills while providing a valuable service to Grand Canyon National Park and those who come to visit."
-NPS-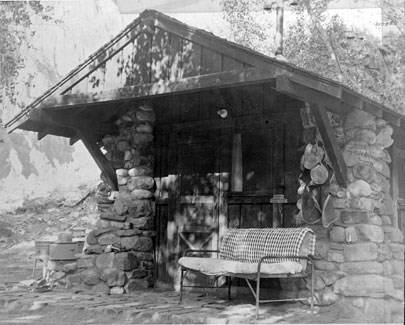 Last updated: February 24, 2015