Grand Canyon National Park Employee Receives Award for Excellence in Workforce Development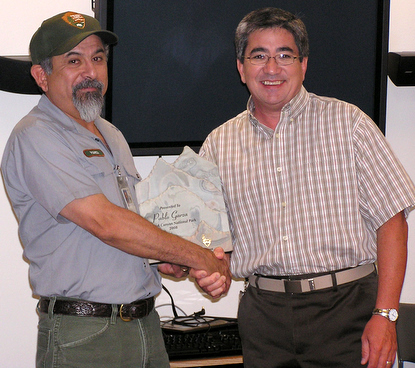 News Release Date:
June 15, 2009
Contact: Shannan Marcak, 928-638-7958
Contact: Maureen Oltrogge, 928-638-7779
Grand Canyon, Ariz. – Pablo Garza, Maintenance Mechanic Supervisor at Grand Canyon National park, recently received the 2008 Franklin G. Smith Award for Excellence in Workforce Development from National Park Service (NPS) Intermountain Regional Director Mike Snyder. This award is the NPS Intermountain Region's highest honor for promoting diversity in the NPS workforce.
Mr. Garza was recognized for his efforts to nurture and groom prospective employees and to guide them into the National Park Service. In his ten years at the Grand Canyon, he has hired more than 50 high school and college students with diverse backgrounds. Pablo works closely with these young seasonal and part-time employees, giving them varied assignments and pairing them with many different park staffers. "I pair them with someone who can teach them," he says, "not just have them standing around and watching."
Last year, he helped the park set up a comprehensive "job shadow" program for 18 to 24 year old Navajo young adults through the neighboring Navajo Tribe Workforce Enhancement Office. "You've got to make time with young folks so they feel that you have their best interests at heart," says Garza. "Being in the twilight years of my career, it means a lot to me to try to help the next generation."
The Franklin G. Smith Award was named for the first Superintendent of Chamizal National Memorial whose efforts in bringing young Hispanic college students into the National Park Service in the 1970s and 80s were extraordinary for his time. The award was created to recognize park supervisors and managers who demonstrate innovation, resourcefulness and perseverance in implementing NPS workforce strategies. According to the qualifications and award criteria, nominees must "consistently practice the highest levels of sensitivity, honesty, and coaching in working with under-represented seasonal and permanent employees." Like Pablo, previous winners of this award have excelled at being personally involved and proactive, and they strive to achieve measurable results in improving workforce diversity.
Mr. Garza was born in Port Huron Michigan and was raised in the barrio on the west side of San Antonio, Texas. His 33-year federal career began in the Army. "I had gotten in with the wrong crowd and dropped out of school. After that, the Army was the only way I could pull myself out. It was a tough choice, but it gave me the chance I needed." While in the Army, Garza attended school at night to get his high school diploma; and after leaving the Army, he earned his Associates Degree in construction. Garza has also worked for the Department of Defense, and the U.S. Border Patrol.
Mr. Garza's wife, Rosa, also works for the NPS at Grand Canyon National Park; and they have two college-age children. Their daughter, Sonya, was a seasonal ranger at San Antonio Missions and will work this summer in Human Resources at Grand Canyon National Park. Their son, Paul also works at the Grand Canyon in Facilities Management.
-NPS-
Last updated: February 24, 2015