Grand Canyon to Waive Entrance Fees During National Park Week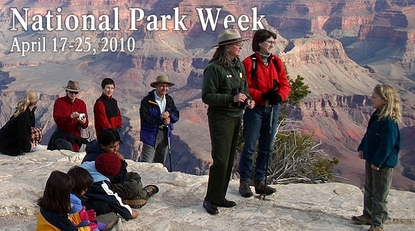 News Release Date:
April 6, 2010
Contact: Shannan Marcak, 928-638-7958
Grand Canyon, Ariz. – The National Park Service (NPS) will be celebrating National Park Week in Grand Canyon National Park by waiving entrance fees April 17 – 25, 2010.
Secretary of the Interior Ken Salazar announced free admission for National Park Week on March 23. "We are rolling out the red carpet and inviting everyone to visit a national park…", he said. He also encouraged visitors to take advantage of this opportunity to get outside and reconnect with nature. "Parks are fun and affordable…places to engage in healthy, outdoor activities, whether for a few hours or a few days."
Visitors who arrive at Grand Canyon National Park April 17 – 25 will be allowed to enter free of charge and will receive a $0 receipt good through April 25. Those who plan to spend time in the park beyond the 25th will need to pay the regular entrance fee for the remainder of their stay. 
Park visitors are reminded that the fee-free designation applies to entrance fees only and does not affect fees for camping, reservations, tours or use of concessions. Park entrance stations will have Interagency Senior and Annual Passes available for those who wish to purchase them.
During National Park Week, park visitors are encouraged to watch for special offers on tours, food and souvenirs provided by park concessioners. Some of these are already listed at http://www.parkpartners.org/Special-Offers-for-2010.html.
In addition, the NPS, Grand Canyon Association, and concessioners Xanterra South Rim, L.L.C. and Delaware North Parks and Resorts will be celebrating the 40th anniversary of Earth Day on Thursday, April 22. There will be family friendly games, displays, information, scavenger hunts, food tastings and more at the South Rim's Market Plaza. Everyone is encouraged to stop by between the hours of 10:00 a.m. and 2:00 p.m. to join in the fun and to learn more about the greening of Grand Canyon.
National Park Week is an opportunity to engage families and communities in America's Great Outdoors, reconnecting them with nature and creating opportunities for people to get outside, be active, and have fun. This year's fee-free designation makes it the perfect week to visit Grand Canyon National Park.
For more information on fee-free opportunities in park units around the country, please visit www.nps.gov/npweek. To learn more about visiting Grand Canyon National Park, visit the park's web site at www.nps.gov/grca, or have a free Trip Planner mailed to you by calling
928-638-7888. 
For additional information on Grand Canyon's Earth Day celebration, contact Deirdre Hanners at 928-638-7627; and to learn more about Grand Canyon's efforts to go green, please visit https://www.nps.gov/grca/naturescience/the-greening-of-grand-canyon.htm.
-NPS-
Last updated: February 24, 2015