Stranded Boaters Rescued, their Boat Freed in Grand Canyon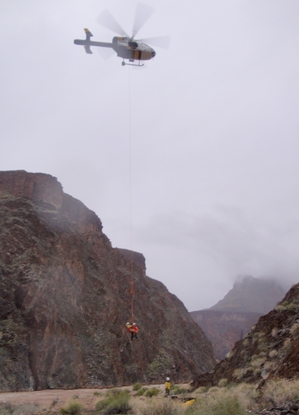 News Release Date:
February 26, 2010
Contact: Shannan Marcak, 928-638-7958
Grand Canyon, AZ. – A private boating party stranded near Crystal Rapid in Grand Canyon National Park was able to continue down the river late Thursday afternoon after being rescued by National Park Service rangers.
At approximately 12:40 p.m. on Wednesday, February 24, the Grand Canyon Regional Communications Center received a report from the leader of a private river trip that one of his 18-foot rafts was stranded on the rock garden at Crystal Rapid, located just past river mile 98 approximately 11 miles down river from Phantom Ranch. The party had worked for three hours to free the boat themselves with no success and needed assistance.
Aerial reconnaissance confirmed the location of the boat and that its three passengers were unable to get to dry land. Due to the time constraints presented by deteriorating weather conditions, a decision was made not to attempt a water rescue. Instead, the three passengers were lifted one-at-a-time by helicopter and transported to shore via short-haul operation. Once on shore, the individuals were able to join the rest of their party and spend a dry night until weather conditions improved enough to allow rangers to retrieve their boat.
On Thursday, additional personnel and equipment were flown to a landing zone near the rapid. After the park's Zodiac rescue boat was inflated and made ready, rangers motored out to the stranded raft, unloaded the remaining gear and then rocked the boat free of the rock garden.
It was then brought to shore to be re-united with its passengers and crew; and by 4:30 p.m., they were on their way down river.
No injuries to passengers or crew were reported.
Fourteen park staff participated in this two day rescue and recovery, including search and rescue rangers, river rangers, helitack crew members, and helicopter and fixed wing pilots.
For further information on this incident, please, contact the Grand Canyon Public Affairs Office at 928-638-7958. If you would like information on river trips through the Grand Canyon, please visit our web-site at www.nps.gov/grca and click on River Trips/Permits or call the River Permits Office at 928-638-7884.
-NPS-
Last updated: February 24, 2015