Grand Canyon National Park Welcomes Two New Division Chiefs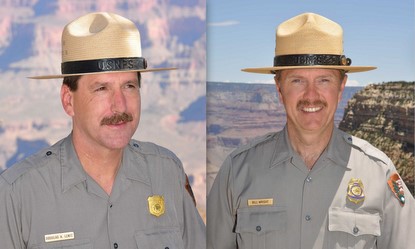 News Release Date:
July 13, 2010
Contact: Shannan Marcak, 928-638-7958
Grand Canyon, Ariz. – Grand Canyon National Park Superintendent Steve Martin recently welcomed two new division chiefs to the park's management team. 
"Bill Wright comes to the park with supervisory law enforcement experience in a variety of large and challenging park units that has left him uniquely qualified to lead the complex Visitor and Resource Protection division here," Superintendent Martin explained of Wright's selection. 
Wright will be managing an operation that includes all of the park's law enforcement activities, criminal investigations, emergency medical services, search and rescue, wildland and structural fire, aviation and fee collection. In his new position, he will be responsible for more than 150 employees and an annual division budget of over $10 million. 
"Rangering", according to Wright, is in his blood. His grandfather was a park ranger. So, "I grew up with the National Park Service (NPS); and I've known what I wanted to be since I was ten years old."
Wright graduated from Southeast Oklahoma State with a Degree in Recreation and Resource Management. His early seasonal jobs were as fee collector and ranger at Chickasaw National Recreation Area near his home in Sulphur, Oklahoma. It was his first job away from Sulphur, at the Statue of Liberty, that he calls, "…a turning point. It really opened my eyes to the diversity of the Service and to new horizons."
During his 26 year NPS career, Wright has worked as a fee collector, horse packer, field law enforcement ranger, supervisory law enforcement ranger and as a chief (law enforcement) ranger. He most recently served five years as the Chief of Visitor and Resource Protection at Great Smoky Mountains National Park. 
When asked if he is feeling at all overwhelmed by his new position, Wright replies, "Surprisingly, I'm not really. I think my past experience was all preparation for the job here. Buffalo National River was a river ops park, Everglades had a large and very active fire management program, Smokies was a very visible park with helicopter operations, and Big Bend helped to prepare me for the remote nature of this assignment. Of course, I haven't been here that long yet," he adds with a smile.
Wright will soon be joined by his girl friend Misty Seagh who has also worked for the National Park Service. Seagh, who spent seven years on the Prescribed Fire Module at Great Smokey Mountains National Park, is looking forward to the opportunities, personal and professional, that the Grand Canyon has to offer.
While Doug Lentz has been working in Grand Canyon National Park for over a year, he only recently took on the challenge of being the park's Chief of Concessions. 
"There are 21 concessioners doing business in Grand Canyon National Park with gross revenues of almost $140 million per year," says Superintendent Martin. "Our operations will definitely benefit from Doug's years of experience in concessions management."
Lentz will be managing all concession and commercial use operations in the park, including developing new contracts, managing the concessions maintenance program, overseeing concessioner educational and interpretation programs and coordinating concessions property management and loss control programs.
Lentz graduated from the University of Montana with a Bachelor of Science in Recreation Resource Management. Before, during and after college, he served in a variety of seasonal positions for both the USDA Forest Service and the National Park Service in maintenance, interpretation and law enforcement. 
Lentz's first permanent position with the National Park Service was as an interpretive ranger at Independence National Historical Park. He has also held permanent positions as a law enforcement ranger, backcountry ranger, supervisory law enforcement ranger, concessions specialist, management assistant/concessions specialist, and Superintendent. He has worked in concessions management at Yellowstone, Hawaii Volcanoes and Grand Canyon National Parks and has served as concessions specialist for all parks in the Pacific Islands. Doug was most recently the Deputy Chief of Concessions at Grand Canyon National Park.
Lentz lives in Flagstaff, Arizona with his wife Catherine, an environmental protection specialist in the park's Office of Planning and Compliance, and their 11-year old son Connor.
-NPS-
Last updated: February 24, 2015