Short-Horned Lizard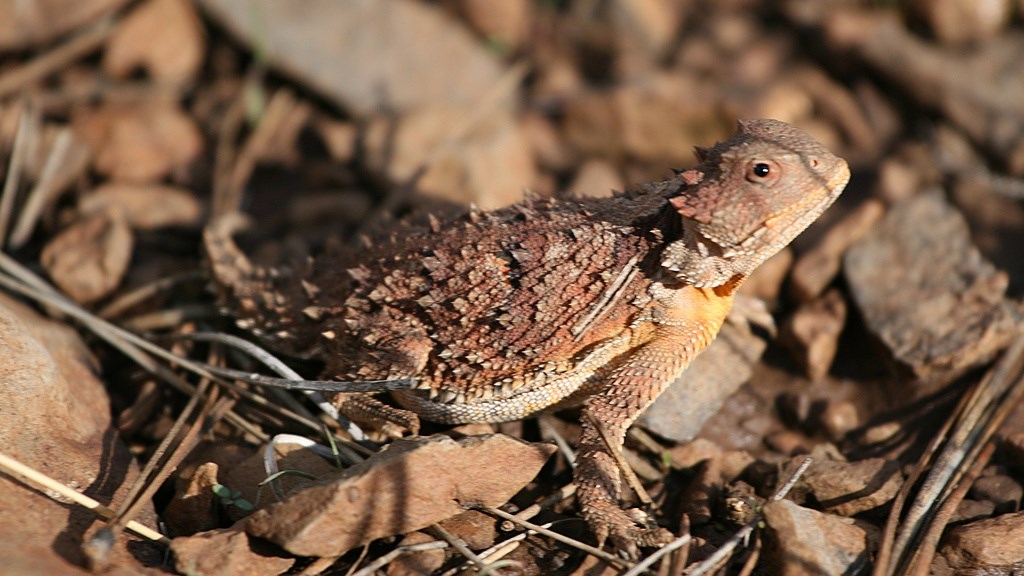 Scientific Name
Greater (Mountain) Short-Horned Lizard: Phrynosoma hernandesi
Identification
Often wrongly called a "horny toad," this species of lizard has a crown of short spines on the head, and a low of small spines on each side of its body.
They are small squat lizards, with a blunt snout. They reach up to about 6 inches (15cm) in length.
They are grey, yellowish, or reddish-brown, with a row of dark spots along the back.
Habitat
Mountain short-horned lizards are found throughout western North America, ranging from central Mexico to the Canadian provinces of Saskatchewan and Alberta.
In the Grand Canyon, short-horned lizards are found on the Rims and inside the Canyon. Their camouflage makes them very difficult to see.
Behavior
Short-horned lizards are ambush predators, and will remain motionless until prey comes close enough to grab.
They feed on small insects, which they swallow whole. Ants are their primary food source.
In the Grand Canyon, short-horned lizards hibernate in burrows during the winter.
When threatened, short-horned lizards shoot blood from specialized tear ducts in the corners of their eyes. They can shoot this blood up to three feet (one meter) to startle and confuse predators.
Populations of short-horned lizards have been in decline in recent decades, due to habitat destruction, capture for the pet trade, and eradication of ants.
Last updated: March 14, 2016