Science Research - Current Projects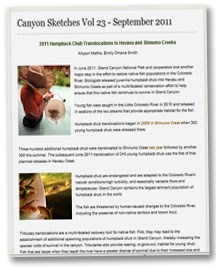 Quick Links to Special Grand Canyon Topics
Canyon Sketches eMagazine Home Page

Canyon Sketches are short, timely and newsworthy updates about Grand Canyon's natural, cultural and recreational resources. They highlight the ongoing work that Grand Canyon's Science and Resource Management staff does to monitor, inventory, restore, and rehabilitate park resources.

The Canyon Sketches eMagazine is designed to provide specific information on resource challenges and Science and Resource Management activities. Read more...
Last updated: February 24, 2015