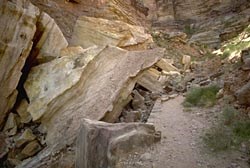 The overall silence and stillness that many visitors experience at the Grand Canyon does not hint of the geologic processes that are active today, or in the recent past, in the canyon.
Except for the occasional visitor who hears a rock fall, or a rare large landslide, it is not apparent that the canyon is actively getting bigger.
However, the erosional processes that originally formed the Grand Canyon are still active today as the Colorado River and its tributaries slowly cut deeper into the canyon.