Grand Canyon's Other Native Fish

Flannelmouth Sucker (Catostomus latipinnis
)

Flannelmouth suckers are the largest species of native fish still relatively abundant in Grand Canyon. Following increases in the last decade, the flannelmouth sucker population appears relatively stable. However, threats to the species remains because of predation by non-native rainbow and brown trout prey, and because the cold water temperatures released through Glen Canyon Dam may impact their ability to successfully reproduce and the ability of young fish to survive to adulthood. They are the only endemic species native to Grand Canyon that is not listed as an endangered species.
Flannelmouth suckers mostly live in the mainstem Colorado River in Grand Canyon, preferring pools and deep runs. These large fish reach a maximum length of 24 inches (600 mm). They spawn in or near many of the larger Colorado River tributaries in Grand Canyon, including the Paria River, Little Colorado River, Bright Angel Creek, and Havasu Creek. Juvenile fish may drift downstream for long distances, and adults make long-distance movements to and from spawning areas.

Bluehead Sucker (Catostomus discobolus)

The bluehead sucker is found in the Colorado and Snake River systems, inhabiting both major rivers and their tributaries. In Grand Canyon, healthy populations of bluehead suckers are found in major tributaries such as the Little Colorado River, Havasu Creek, Shinumo Creek, and Bright Angel Creek.. The species prefers rocky substrates and moderate to fast stream velocity. Bluehead suckers reach a maximum length of about 20 inches (500 mm), and feed on aquatic invertebrates and organic debris. The species has a specially-adapted cartilaginous plate on its lower lip to scrape algae from rocks on the stream bottom.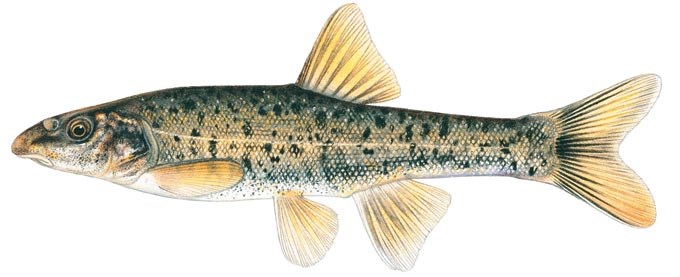 Speckled Dace (Rhinichthys osculus)
Speckled dace are common in most Grand Canyon tributaries and are the most abundant native fish remaining in the park. These small fish feed on small invertebrates and algae. They are found in tributaries and in shallow water sections of the Colorado River, but may be extremely rare or absent in upstream areas of Grand Canyon closer to the Glen Canyon Dam. They live two to three years, reaching a maximum length of around 4 inches (100 mm), and frequently are prey for larger fish.

Last updated: February 24, 2015