Canyon Sketches Vol 10 - May 2009
Alternative Spring Break Participants Contribute to Preserving Grand Canyon's Natural Resources
By Allyson Mathis, Kassy Theobald and Christi Sorrell
In March 2009, Grand Canyon National Park hosted the second annual Alternative Spring Break program sponsored by the Student Conservation Association (SCA) in partnership with American Eagle Outfitters. Sixty students plus SCA crew leaders and support staff donated over 3500 hours of service to the park in two one-week sessions. The students worked on a variety of conservation projects in collaboration with park staff.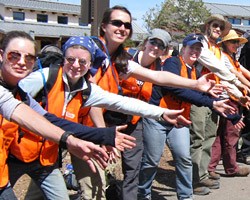 SCA is the nation's largest youth conservation leadership organization. It offers volunteer conservation opportunities in collaboration with land management agencies and organizations such as the National Park Service. SCA has been offering a variety of internships that engage young people in hands-on service to the land for 50 years.
In 2008, SCA sponsored their first Alternative Spring Break programs at Grand Canyon National Park and Padre Island National Seashore.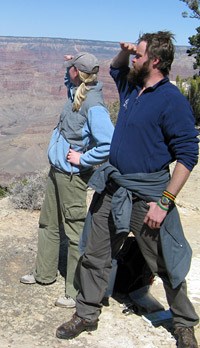 In 2009, the SCA Alternative Spring Break program was only offered at Grand Canyon. Students from 48 colleges and universities throughout the country traveled to the canyon for a week of service, learning and fun.

The students worked primarily with Science and Resource Management staff on vegetation program projects. They also worked with the park rangers to install signs along an eight mile segment of the park's boundary fence.

During their week in the park, students also had the opportunity to explore the canyon on their own and had a full-day for hiking, sightseeing, or relaxing.

Park staff also presented a number of educational programs to the Alternative Spring Break participants on topics such as Grand Canyon geology, wilderness, California condors, and the restoration projects that the students contributed to, including the rehabilitation of Hermit Road, the implementation of the South Rim Visitor Transportation Plan, and the maintenance of the park's native plant nursery.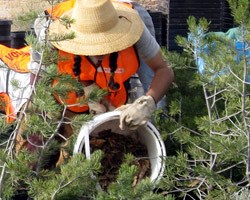 The crews spent much of their time working on restoration projects near the Grand Canyon Visitor Center at Canyon View Information Plaza and the new Desert View entrance station, which was completed in 2008.

Students salvaged more than 1000 plants near the Grand Canyon Visitor Center prior to construction of new parking lots, including cliffrose, banana yucca, prickly pear, native grasses, and small pinyon pine and juniper trees.
The rescued plants were placed in pots in a temporary on-site nursery that will be maintained by park vegetation staff members and volunteers until they are replanted after road and parking lot construction has been completed.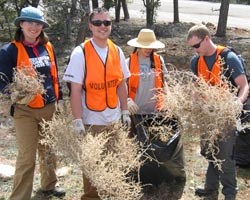 The students also removed more than 7000 invasive plants, including horehound, knapweed, Scotch thistle, and Russian thistle from Desert View and Grand Canyon Village areas.

Removing invasive species from the area adjacent to the Desert View entrance station is the first step towards restoring native vegetation communities in the former construction zone. Volunteers and Science and Resource Management staff will replant this area later in 2009.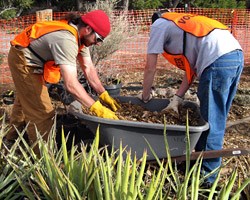 Jan Balsom, Deputy Chief of Science and Resource Management said, "The amount of work that the students accomplished during their spring break here in the park was incredible.

"We really appreciate these young people's willingness to spend their vacation working with us to preserve and protect Grand Canyon.

"They truly made a difference.
"We also really appreciate the SCA program as a whole; a large number of SCA volunteers and interns have made huge contributions to the National Park System over the many years of this volunteer program. We couldn't do the work we do without them."

Rebecca Pike, the SCA Alternative Spring Break program coordinator concluded, "It is our hope as SCA staff and as stewards of community and of the land that we managed to inspire ourselves, park staff, and all Alternative Spring Break participants.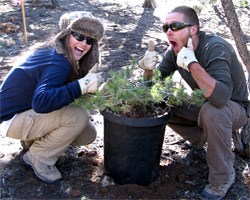 "We hope that we all continue on with service and a conservation-minded lifestyle and with the spirit of sharing, hard work, and community building that we all experienced on the south rim of the Grand Canyon this March.
"All of us were able to assist the park with their vegetation program while exploring the world of Grand Canyon National Park and while being part of a group of people who, although all different and unique, came together to share in an experience that might help us define ourselves."
---
Related Information

Canyon Sketches Vol 16 - January 2010
Grand Canyon National Park takes steps to recover the endangered sentry milk-vetch.
The park took significant actions in 2009 to recovery the endangered sentry milk-vetch, including constructing a passive solar greenhouse to house an ex situ population and conducting seed germination trials.

Canyon Sketches Vol 15 - November 2009
Invasive Plant Control in Tuweep
In March 2009, Grand Canyon National Park teamed up with the Coconino Rural Environmental Corps (CREC) to eradicate invasive plants in the Tuweep District.
Canyon Sketches Vol 06 - October 2008
Park Vegetation Crews Use Multiple Techniques to Restore Native Vegetation Along Hermit Road
Hermit Road re-opened in November 2008 after a nine-month rehabilitation. Restoration of native vegetation along Hermit Road is one of the largest plant restoration and rehabilitation efforts ever undertaken at Grand Canyon National Park. The multi-faceted project includes a variety of restoration techniques and incorporates substantial contributions by park volunteers and interns.

Canyon Sketches Vol 05 - August 2008
Park Biologists Conserve Rare Plant
Plant biologists identified several populations of Tusayan flameflower (Phemeranthus validulus) in areas that will be impacted by the construction of parking lots at Canyon View Information Plaza. In order to conserve this rare Grand Canyon species, they recently salvaged plants from construction zones and transplanted them in suitable habitat nearby.

Canyon Sketches Vol 02 - April 2008
Volunteers Help Control Invasive Plants
Invasive plants such as Sahara mustard pose a serious ecological threat to Grand Canyon. Volunteers have made important contributions towards controlling this aggressive invader over the last few years. Volunteer trips with Science and Resource Management's vegetation program are fun and educational and give people who love Grand Canyon the opportunity to help preserve park resources.

Visit the Canyon Sketches eMagazine Home Page
Canyon Sketches are short, timely and newsworthy updates about Grand Canyon's natural, cultural and recreational resources. They highlight the ongoing work that Grand Canyon's Science and Resource Management staff does to monitor, inventory, restore, and rehabilitate park resources. The Canyon Sketches eMagazine is designed to provide specific information on resource challenges and Science and Resource Management activities.
Last updated: February 24, 2015