Getting Married at Grand Canyon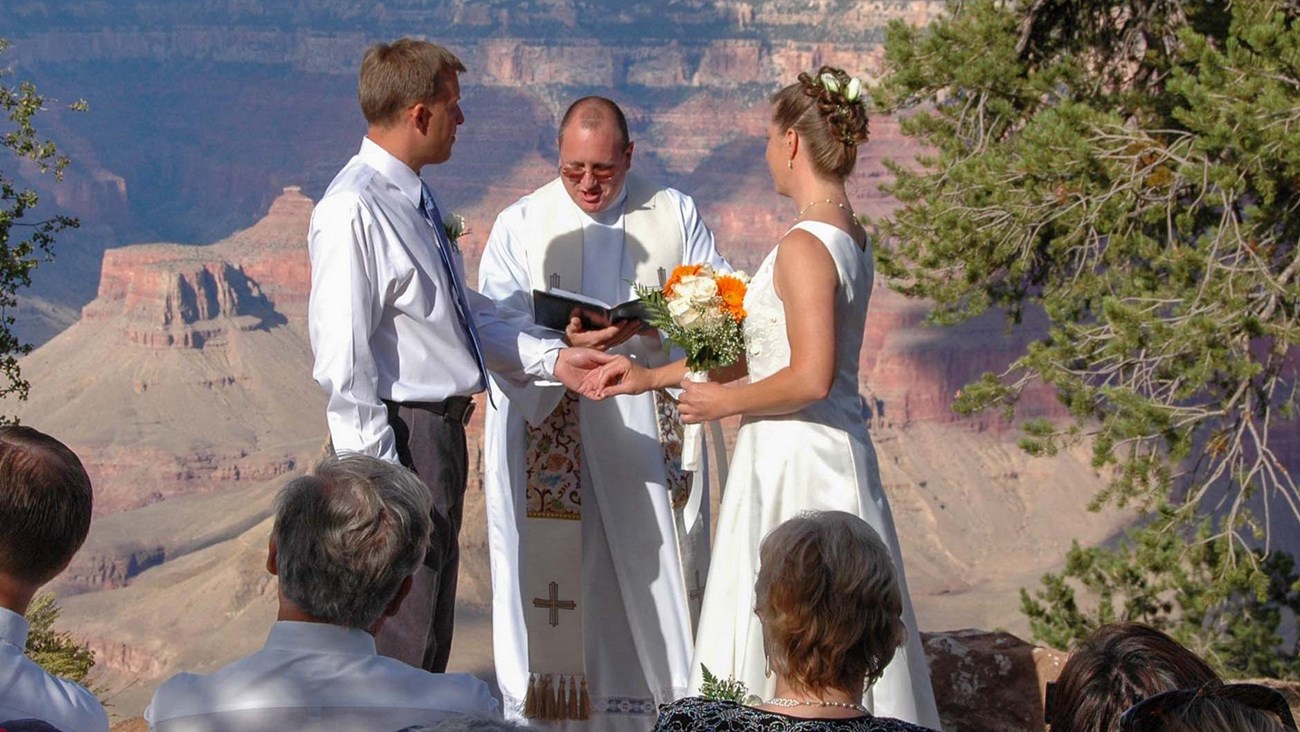 Grand Canyon National Park's inspiring viewpoints and natural settings are ideally suited for small, simple, and quiet weddings. With a variety of indoor and outdoor locations for wedding ceremonies and receptions you can find the perfect place for your special moment. All ceremonies, regardless of size, require an approved Special Use Permit issued by the National Park Service.
Planning
Weddings may be scheduled up to one year in advance.
Special Use Authorization Permits must be requested by the individuals getting married and not by a third party (e.g. wedding planners).
The park requires a minimum of four weeks to fully process a basic permit request. Do not wait until the last minute to apply for your permit. Complex special events may require more than four weeks to process.
At this time, a Ceremony Sites Calendar is not available. To check if your desired location and date is available, please contact our office via email. Please note that Cape Royal Amphitheater and Point Imperial Viewpoint on the North Rim are only available May 15 to October 15 due to road closures and lack of facilities during the winter months. Each location may only have one event per day.
Instructions for how to pay the nonrefundable application fee will be emailed to you after we confirm receipt of application. By law, we must recover costs associated with managing these permits and sites through these fees.

For information on lodging, catering or reception availability please contact hotels and facilities directly. You can find information about lodging in the area at: https://www.nps.gov/grca/planyourvisit/lodging.htm
Rules and Regulations
All sites must be cleaned after use
In sites with trash bins the ground/floor must be picked up of all trash including organic matter such as flower petals.
For outdoor locations the prohibited items include: flowers, archways, any structure, balloons, the throwing of items, chairs, amplified sound. This is not a complete list; please contact the permits office for more information. Special Use Permits only allow the use of the permitted area. The permit does not provide for, or include, any services or ammenities
Outdoor Locations: South Rim
Pima Point
A somewhat secluded site at the western end of Hermit Road for smaller parties. Only available December, January, and February, when Hermit Road stays open to all vehicles. Accommodates 30 people
Rim Worship Site
Located at the western end of Grand Canyon Village along the Rim Trail, one-fourth of a mile (0.4 km) from the nearest parking lot. Accommodates 50 people.
Grandeur Point
A short walk west from Yavapai Point. Parking fills quickly; consider using the free shuttle buses. Accommodates 45 people.
Shoshone Point
Isolated site, limited parking; only accessible by a one-mile (1.6 km) unimproved dirt road. Available May 15 to October 15. Site offers picnic tables, pavilion, grills, trash cans, and toilet. Holds up to 85 people. Only viewpoint available for outdoor receptions.
Moran Point
Just west of the main viewpoint in an unrailed area. Receives less visitors than other viewpoints and offers expansive canyon views. Parking usually available nearby. Accommodates up to 35 people.
Lipan Point
Just west of Desert View; offers views of the Colorado River. Accommodates up to 35 people.
Outdoor Locations: North Rim
Cape Royal Amphitheater
Located 23 miles (37 km) from the North Rim developed area. A sign points beyond the picnic area to a site with low log benches. Accommodates up to 40 people.
Point Imperial Viewpoint
Highest viewpoint along the rim at 8,800 feet (2,682 m); located 11 miles (17.7 km) from North Rim developed area. Approved wedding location is to the far right of park lot on impacted dirt area. Holds up to 20 people.
Indoor Locations South Rim
Shrine of the Ages
Located immediately west of Park Headquarters. Features a 280-seat auditorium with a smaller room with a 60-person capacity. Alcohol not permitted in the building. Food allowed only in the smaller room.
Park Lodges
Indoor weddings or receptions at lodges do not require Special Use Permits. To reserve space contact the lodging directly. Find lodging information on this page.
Indoor Locations: North Rim
No indoor sites are available for weddings or receptions on the North Rim.
Arizona Marriage License
Williams, Arizona courthouse: 928-635-2691
Flagstaff, Arizona courthouse: 928-679-7600
Fredonia, Arizona courthouse: 928-643-7472
Page, Arizona courthouse: 928-645-8871
Performing the Ceremony
Grand Canyon Churches
Clergy from Grand Canyon Village will often perform wedding ceremonies; counseling prior to the wedding may be required. Find a current list of churches in Grand Canyon National Park on this site.

District Justices and Municipal Judges
Williams Justice Court 928-635-2691
Flagstaff Justice Court 928-679-7650
Flagstaff Municipal Court 928-774-1401
Fredonia Justice Court 928-643-7472
Last updated: February 22, 2022