River Ranger Crew Blog - Winter 2008-09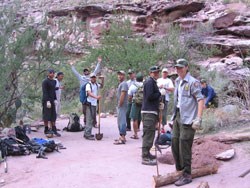 By Jeri Riley - River Patrol Ranger
NPS river rangers, trail crews, archeologists and biologists are on the river during September and November, 2008 rehabilitating river camps as required by the
Colorado River Management Plan.
Work is being completed at numerous camps along the river. These are all heavily impacted camps and work is being done to remove social trails, create more campsites below the Old High Water Zone, repair and trim established trails and protect archeological sites. Please, be understanding if these work projects are happening where you planned to camp. Also, please respect the work that has gone into protecting these areas by continuing to camp below the Old High Water Zone and staying on established trails. For an example, of recent work view the Soap Creek Camp Map (2009_02 512kb PDF File) It shows the campsites in relation to newly rehabbed areas.
River rangers will be patrolling the river throughout 2009, rehabilitating river camps, maintaining backcountry toilets, trimming scout trails and working with several park scientists on monitoring projects. We look forward to meeting you on the river.
Last updated: February 24, 2015