River Ranger Crew Blog- Fall 2008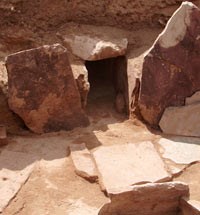 Archeological Excavations
Archeologists from Grand Canyon National Park and the Museum of Northern Arizona invite you to stop by and visit as they work on an archeological site upstream from Unkar Delta. The excavation crew will be at the site from September 11-16, 2008. An NPS interpretive ranger will be available to guide you through the site and answer any questions you may have. The site, consisting of a number of masonry rooms and features, was likely occupied around A.D. 1000. The site is being excavated because erosion in the area is too advanced to effectively conduct any preservation measures. Park and museum staff will be
working on several excavations
along the river corridor during the next few years. These sites will be open to the public during excavation. Before you launch, please check with the Lee's Ferry rangers for details.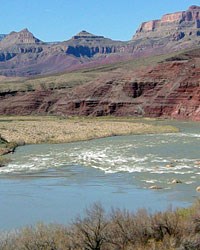 Visitation is welcome at an archeological excavation below Tanner Rapid September 16 - 20, 2008.
The Bureau of Reclamation (Glen Canyon Dam Adaptive Management Program) sponsored excavation is studying river channel morphology and floodplain influence on human use of the landscape here; and how this may have influenced prehistoric agricultural practices. The features present on the surface are primarily limited to roasting features and hearths with evidence of tool manufacture.

A Grand Canyon National Park NPS interpretive ranger will be available to guide you through the site and answer any questions you may have. Before you launch, please check with the Lee's Ferry rangers for details.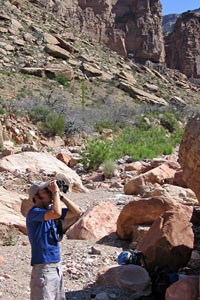 Campsite Monitoring and Mitigation
Park staff will be in the river corridor this fall, continuing work for both the monitoring and mitigation portions of the Colorado River Management Plan.
In September, park staff will be assessing impacts on wildlife and vegetation at various campsites. You may see staff setting up vegetation transects, performing bird point counts, and assessing other social impacts.
In November, park staff will again be in the river corridor at various campsites. During that time, you may see park staff repairing established trails, obliterating social trails, planting vegetation, and assessing archaeological features. Park biologists, archeologists, trail workers, and river rangers will be working together to complete both the monitoring and mitigation work throughout the fall.
- Kassy Theobald
---
Havasu Canyon Flash Flood - August 16, 2008

The NPS River Rangers were approximately 50 miles upstream of Havasu Canyon during the flash flood that occurred on August 16, 2008.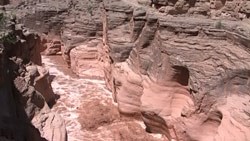 Boats belonging to a private boating party were swept away during the flash flood. At approximately 10:45 a.m. on Sunday, August 17, 2008, an NPS helicopter found the party of 16 stranded on a ledge at the confluence of Havasu Creek and the Colorado River. The NPS used a short haul rescue technique (watch video) to move group members, one at a time, from the ledge to the shore of the Colorado River where they could be picked up by helicopter and flown to Hualapai Hilltop. From there, the group was transported by bus to a Red Cross shelter in Peach Springs, Arizona.

To ensure the safety of park visitors, NPS river rangers contacted groups who were still upriver from the confluence of Havasu Creek and the Colorado River to inform them of the conditions at the confluence.
The group's five rafts and three kayaks were found approximately 35 miles downstream of Havasu Canyon. The boats were secured to shore by other river trips. The River Ranger Crew then towed the boats to Diamond Creek where they were returned to their outfitter.
Last updated: February 24, 2015