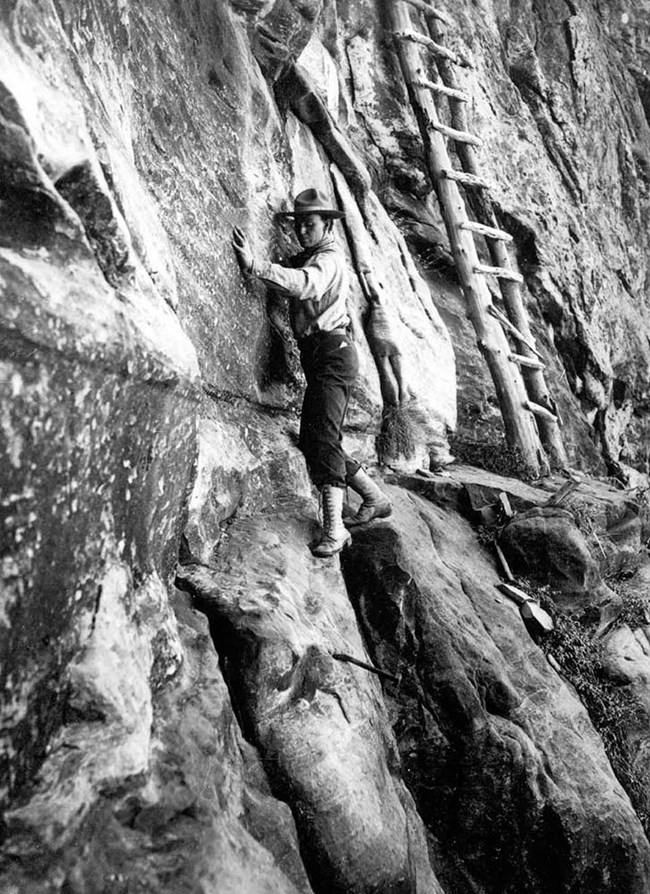 Dan Hogan and the Orphan Mine
Dan Hogan was in the first group of prospectors to come to Grand Canyon from Flagstaff in 1890. He and some friends are the first known hikers to complete a rim-to-rim-to-rim backpacking trip through the central corridor in 1891. But his adventures were only getting started.
In 1893 Hogan registered the "Orphan Lode" or "Orphan Mine," located 1,000 feet below Maricopa Point and on 20.64 acres of scenic property less than two miles west of today's village. Four acres abutted the canyon edge while the remainder plummeted to the copper mine's shaft in the cliff face below.
Hogan constructed two trails to his claim. The Battleship Trail followed the upper 1.4 miles of the Bright Angel Trail before traversing below Maricopa Point another 3.5 miles to the mine site. Another trail consisted of ropes, ladders, and toe holds chiseled into the side of the cliff from the rim directly above the mine site. Few other than Hogan used what he called "The Slide" and others called the Hummingbird Trail. You had to be a hummingbird to hang on!

Hogan not only had the mine, he was able to build tourist facilities uncontrolled by the National Park Service.