History & Culture
Administrative History of Grand Canyon National Park
Although first afforded Federal protection in 1893 as a Forest Reserve and later as a National Monument, Grand Canyon did not achieve National Park status until 1919, three years after the creation of the National Park Service. Today Grand Canyon National Park receives close to five million visitors each year - a far cry from the annual visitation of 44,173 which the park received in 1919.

For more information: An Administrative History of Grand Canyon National Park
Copyright © 2000 by Grand Canyon Association. All rights reserved. Monograph Number 11 - Polishing the jewel : An Adminstrative History of Grand Canyon National Park by Michael F. Anderson. Published by Grand Canyon Conservancy.
---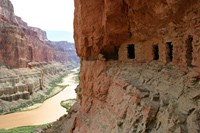 Archeological Resources
The oldest human artifacts found are nearly 12,000 years old and date to the Paleo-Indian period. There has been continuous use and occupation of the park since that time.
The park has recorded over 4,300 archeological resources with an intensive survey of over 5% of the park area.
The park's 11 Traditionally Associated Tribes and historic ethnic groups view management of archeological resources as preservation of their heritage.
Archeological remains from the following culture groups are found in Grand Canyon National Park: Paleo-Indian, Archaic, Basketmaker, Ancestral Puebloan (Kayenta and Virgin branches), Cohonina, Cerbat, Pai, Southern Paiute, Zuni, Hopi, Navajo, and Euro-American. Learn more...
---
Discover ancient places within Grand Canyon where people lived long ago. What did the archeologists find during theses major excavations along the Colorado River ?

Duration:

16 minutes, 24 seconds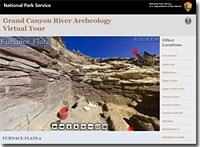 Grand Canyon Archaeology Virtual Tour
Discover ancient places within the Grand Canyon where people lived long ago.

What did the archeologists find during the first major excavation to occur along the Colorado River corridor in nearly 40 years? Interactive 360° photos, show archeologists at work, along with their tools, such as shovels, trowels, screens and buckets. https://www.nps.gov/features/grca/001/archeology/index.html

---
Grand Canyon National Park Archeology Includes:
River Monitoring Program
generates data regarding the effects of dam operations on historic properties, identifies ongoing impacts to historic properties within the APE [Area of Potential Effect], and develops and implements remedial measures for treating historic properties subject to damage.
Vanishing Treasures Program
Grand Canyon National Park is one of 45 National Park Service areas that participate in the Vanishing Treasures Program. The goal of the Vanishing Treasures program is the conservation of architectural remains through research, documentation, and preservation treatment.
---

Historic Structures in Grand Canyon National Park
National Historic Landmarks
Individual Buildings 5
El Tovar Hotel, Grand Canyon Railroad Depot, Grand Canyon Lodge, Grand Canyon Park Operations Building (also known as Ranger Operations) and the Grand Canyon Power House.


Districts 2
Grand Canyon Village (257 contributing properties) and the Mary Colter Buildings

---
National Register of Historic Places
Individual Properties 9

Individual Structures 1

Districts 8

Archeological Sites 1
Determinations of eligibility have been received for an additional 14 structures and districts and 316 archeological sites; and nominations for ten trails are pending for inclusion on the National Register of Historic Places.

---
List of Classified Structures (LCS) 874 listings
LCS is inclusive of the National Historic Landmark and National Register programs currently being reviewed.
---

is one of the many historic buildings at Grand Canyon with an intriguing history.

This multi-purpose building was originally planned as an interdenominational chapel sitting on the edge of the canyon itself.More...
Grand Canyon Centennial Stories and Historic Accounts


Last updated: August 4, 2019