Grand Canyon Pledge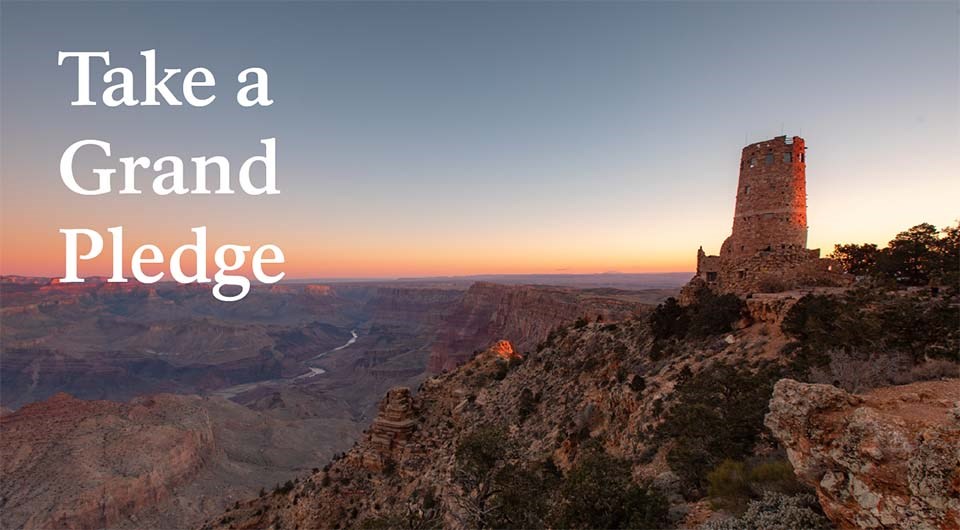 Grand Canyon National Park received over 6.2 million visitors in 2017, from all over the world. As National Park employees, we are thrilled that you share the same passion we do for this incredible landscape.

But we need your help! The choices you make while visiting Grand Canyon National Park are important and affect the park's overall well being. Help Grand Canyon become a better place for all:
Read the pledge: understand what each action means, and think about how you can incorporate them to your next visit to public lands.
Have fun! Make sure to share a photo or video of yourself taking the pledge on social media using #GoGrand and #GrandCanyonPledge.
Teach Others: Tell your friends and family about the actions they should take while visiting Grand Canyon and other public lands.
I Pledge to Honor, Respect, and Protect Grand Canyon National Park for the Next 100 Years!
The Grand Pledge:
I pledge to carry plenty of water, salty snacks, sunscreen, and wear the proper clothing while hiking anywhere in Grand Canyon National Park.
I pledge to stay a safe distance away from all wildlife and never to feed a wild animal, especially the rock squirrel!
I pledge to never take anything from the canyon except for selfies and never leave anything on trees or rocks like graffiti. I will

Leave No Trace

of my visit so that the next person can experience the same beauty as I did.
I pledge to know where I can go with my pet, to always keep it on a leash, and to clean up after it.
I pledge to travel green by carrying a reusable water bottle, recycling my trash, riding the park shuttle buses, and being conscious of my water use while visiting Grand Canyon.
I pledge to carry my patience during busy times and take advantage of all the opportunities to learn more about Grand Canyon National Park.
Thank you for taking the pledge and showing your commitment to Grand Canyon National Park.
Looking for More Ways to Participate?
Participate in Grand Canyon Conservancy's "A Grand Vision" campaign! This campaign has four priorities:Trails Forever, Dark Sky Preservation, Discovery and Exploration, and Desert View Inter-tribal Heritage Site.
Last updated: March 6, 2021