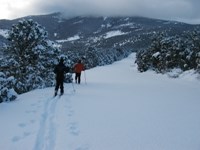 Solitude, stillness, and spectacular scenery greet visitors to Great Basin National Park in the winter. This quietest season of the year offers some unique experiences in the park. The Wheeler Peak Scenic Drive and Baker Creek Road are both closed to vehicle traffic, but open to skiers and showshoers. Winter camping is available in the Lower Lehman Creek Campground, which remains open all year, or in the backcountry. Lehman Caves Tours are also offered year round, with the advantage of small group sizes during the winter months.
Be aware of the unique safety challenges of exploring a remote winter environment. Please be advised that no food service exists in the park during the winter, and goods and services in Baker are limited.
Skiing and Snowshoeing
Novice skiers can find gentle slopes for touring or experienced ski mountaineers can challenge their skills on steep and deep backcountry runs. Visitors must bring their own skiis, but snowshoes are available to rent at the Lehman Caves Visitor Center for a small donation.
Trails and roads in the park are not groomed, though some routes are flagged with tape.
Snow conditions range from wet or hard packed snow to fresh dry powder. For current snow conditions, email us or call (775) 234-7510.
Winter Backcountry Camping
The same regulations for camping in the backcountry during the summer apply in the winter. Day use areas, such as the Wheeler Peak area, remain closed to camping all year. Visitors may camp in the closed Wheeler Peak Campground during the winter at no charge.