Lehman Caves Tours
Cave Tours are available for reservation up to 30 days in advance. Do not anticipate getting a tour without a reservation, especially during the summer.
Experience Lehman Caves via the free
Virtual Cave Tour
Tour Basics
Lehman Caves may only be entered with a ranger-led tour. Cave tours are offered daily, year-round, except for Thanksgiving Day, Christmas Day, and New Year's Day. Park rangers lead all tours and explain the history, ecology, and geology of the caves. In 2023, two tours are offered during the summer: the Lodge Room tour and Grand Palace tour
. During the winter, only Lodge Room tours are offered. Cave tours regularly sell out, sometimes weeks in advance. Reservations through Recreation.gov are highly recommended.
Cave Rules
Masks may be required inside the cave for all ages, regardless of vaccination status if local community transmission levels return to high. Please check the Park Alerts for the most recent information.
Please arrive fifteen (15) minutes before your tour time to check in with the front desk and get screened for White-Nose syndrome. Guests who have not checked in for their reserved tour within five minutes of tour start will forfeit their tickets.
White-Nose syndrome screening is mandatory. Do not wear clothes or shoes that have entered another cave into Lehman caves for the health of our bats.
No touching of the cave is allowed.
No bags of any kind are allowed inside the cave, including backpacks, camera bags, purses, fanny packs, phone hip holsters, or back mounted baby carriers. Only front mounted baby carriers are allowed inside the cave. The Lehman Caves Visitor Center has limited front carriers to lend for the tour.
No food, liquids, water, chewing gum, or chewing tobacco are allowed inside.
No tripods, selfie sticks, large lenses, pets, or stollers are allowed inside the cave.
No bags of any kind are allowed in the cave, including fanny packs, backpacks and purses.
Claustrophobia and unease can be experienced on this cave tour due to the tight spaces inherent in cave environments. You have the option of being escorted out if these feelings are overwhelming for you or any group members.
Grand Palace Tour
Grand Palace Tours are approximately 90 minutes long. The Grand Palace Tour travels 0.6 miles, and children must be at least 5 years old to join the Grand Palace Tour (except on tours November through February). This tour visits the Gothic Palace, the Music Room, the Lodge Room, Inscription Room, and the Grand Palace sections of Lehman Caves, including a chance to view the famous "Parachute Shield" formation. Tour is limited to 20 visitors. White Nose Syndrome screening is mandatory.
Lodge Room Tour
Lodge Room tours last about 60 minutes and explore about .5 miles of the cave. When Gothic Palace tours are not available, children of any age may join. This tour visits the Gothic Palace, Music Room, and Lodge Room as it winds its way through cave passages. Tours are limited to 20 visitors. White Nose Syndrome screening is mandatory
Gothic Palace Tour (Not offered 2023)
Gothic Palace Tours are about 30 minutes long. This is perfect for families with young children. The tour travels less than .25 miles into the cave to the Gothic Palace. This tour will show off the many cave formations and unique history in this heavily decorated room of the cave. Tour is limited to 20 visitors. White Nose Syndrome screening is mandatory.

Ticket Sales
Tickets are usually required for cave tours, and may be purchased two ways:

In advance via Recreation.gov

Same day reservations through the website are not accepted. Please plan ahead, as tours sell out regularly. Cancellations, reservation changes, and refunds are handled through recreation.gov.

In person at the Lehman Caves Visitor Center upon arrival (same day only).
We strongly recommend that you make a reservation instead as your chances of getting in the cave drop dramatically without reservations. Tours often sell out in advance, meaning no same-day tickets are available.

If you book a Grand Palace tour you do not need to book a Lodge Room Tour. The Lodge Room Tour duplicates half the rooms on the Grand Palace Tour.

Attention Interagency Senior and Access Passes Holders:
Holders of the Interagency Senior and Access Passes (and the Golden Age and Access Passes) may receive a 50% discount on the purchase price of a ticket.

The ticket reservation must be in the name of the pass holder to receive a discount and the discount only applies to the pass holder's ticket.

Please check in at the Lehman Caves visitor Center for your reserved tour at least 15 minutes prior to your tour start time. Visitors not present five minutes prior to tour start time will forfeit their reservations.

The pass, a photo ID, and the reservation number must be presented when you pick up your tickets at the facility.
Ticket Prices
Because cave tour fees are not entrance fees, they are not covered by the Annual Pass. However, Golden Age/Senior Pass and Golden Access cardholders are entitled to a discount. Please note that discounts are for the cardholder only, and will not cover additional family members. You can learn more about park passes and their benefits on the America the Beautiful Interagency Pass page.
First Room Tour
(20 Minutes)
Lodge Room Tour
(60 Minutes)
Grand Palace Tour
(90 Minutes)
Adults
(16 & older)
$5.00
$12.00
$15.00
Youth
(5-15 years old)
$2.00
$6.00
$8.00
Infants & Toddlers
Free
Free
N/A
Golden Age/Senior Pass
(cardholder only)
$2.50
$6.00
$7.50
Access Pass
(cardholder only)
$2.50
$6.00
$7.50
2023
Spring Tour Schedule: March 11, 2023 - May 25, 2023
Lodge Room Tour (60 minutes)
9:00am

Grand Palace Tour (90 minutes)
1:00 pm

Summer Tour Schedule: May 26, 2023 - October 13, 2023
Grand Palace Tour (90 minutes, must be over 5 years old)
9:00am | 11:00am | 1:00pm | 2:00pm | 3:00pm
Lodge Room Tour (60 minutes)
8:30am | 10:30am | 12:30pm | 2:30pm


---
Group Tours
To arrange tours for school groups, please contact the park via email, or call (775) 234-7511. School group tours must contact us at least 30 days in advance.
Accessible Tours
Brief tours of the first room of the cave, the Gothic Palace , are available for those unable to negotiate the stairs and narrow passageways of the tour route. Participants join the first 30 minutes of a regular tour and are escorted out of the cave by a ranger.

For those in wheelchairs, there is no guarantee you will be able to visit the cave. The entrance tunnel is historic and not ADA-approved. A friend or family member must be available to assist those in non-motorized wheelchairs, and be comfortable navigating the wheelchair down a steep grade. Please be advised that wheelchairs are not available at the park.
First room tours may not be available on every tour, depending on staffing levels.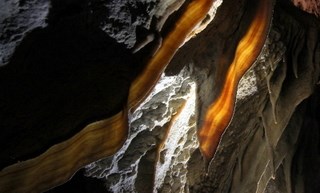 Find out more about
Cave/Karst Systems!
Last updated: May 5, 2023