Wheeler Peak in Winter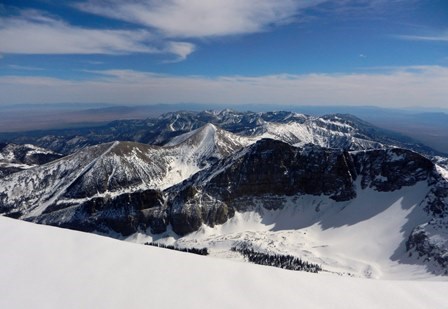 For a winter ascent of Wheeler Peak, we recommend that you purchase the United States Geological Survey 1.5 minute "Wheeler Peak, Nevada" and "Windy Peak, Nevada" quadrangle maps. They are availalbe from the USGS, at a park visitor center, by mail order from the Western National Parks Association. For mail orders, call (775) 234-7529.
Routes
Winter access to Wheeler Peak starts at Upper Lehman Creek Campground. Most parties take two days to make the ascent. The first day, they hike up the Lehman Creek Trail and camp at the Wheeler Peak Campground. The second day is spent climbing the summit and returning back down the Lehman Creek Trail.

There are two routes to Wheeler Peak Campground from Upper Lehman Creek Campground. The most direct is the 4.5-mile Lehman Creek Trail. The alternative is a 10-mile trek along the Wheeler Peak Scenic Drive. Elevation gain is approximately 2,200 feet.

The standard route to the summit from the Wheeler Peak Campground generally follows the Alpine Lakes Loop Trail to the vicinity of Stella Lake, and then branches to the Wheeler Peak Summit Trail. This route ascends westward from Wheeler Peak Campground to a saddle, and from there up the broad north ridge of the mountain. Distance to the summit is approximately 5 miles and the elevation gain is about 3,300 feet.
Weather
Typically, the lower elevations are relatively snow free. However, 3-6 feet of snow can accumulate at Wheeler Peak Campground and along the Alpine Lakes Loop Trail. Above the treeline, the north ridge is wind swepth and fairly clear. While the lower and upper portions of the ascent are hikable during most years, the middle portion requires either skis or snowshoes. The standard route up Wheeler Peak is not technically difficult. However, skiing can be dangerous in places. It is easy to get off route and into steep terrain with numerous cliffs, especially when descending in poor visibility.

The weather can be severe, even on clear days. Count on cold temperatures, high winds and wind chill factors. Sudden storms are not uncommon. Winter climbers should carry proper equipment and be aware of avalanche danger.

Please stop at the Lehman Caves Visitor Center before your climb to check on avalanche conditions and obtain a current weather forecast. We highly recommend that you complete a voluntary backcountry registration form before your trip.


Last updated: April 22, 2021