Stargazing on Your Own
International Dark Sky Park
Great Basin National Park is home to some of the darkest skies in the lower 48 states. Recognized by the International Dark Sky Association as one of the premier International Dark Sky Parks within the United States, you can stand nearly anywhere within the park's boundaries and gaze in awe at the endless space above you. Great Basin is committed to reducing our own light pollution footprint by using red exterior lights, turning white lights off during the night, and using motion detectors to ensure lights are only on when needed. We also measure the brightness of our skies monthly to ensure no light encroaches on the park and our night skies stay as pristine as possible.

On a clear, moonless summer night, thousands of stars and the milky way will be readily visible across the vast sky. With well adjusted eyes, you'll be able to make out far distant objects like the Andromeda Galaxy or closer neighbors like Jupiter, Saturn, or Mars. Winter brings its own delights as the sky will be filled with different constellations and features. Common winter favorites include the Pleiades open star cluster and the Orion constellation.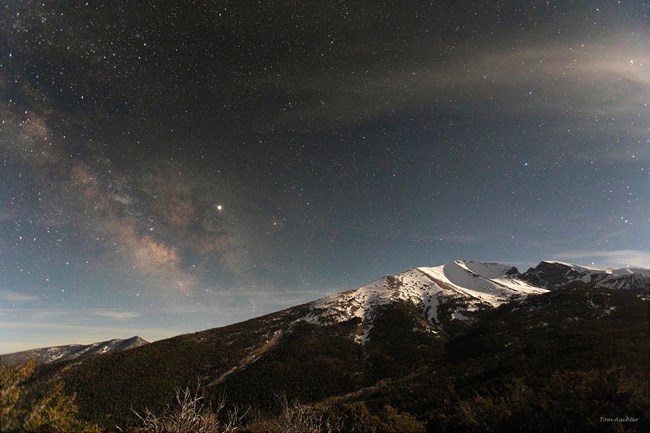 Where to Stargaze
Luckily, within Great Basin National Park and many of the valleys and mountain ranges surrounding us you can see incredible night skies just about anywhere. Below are a few of the more popular areas to stargaze, which each have their own unique benefits.
Astronomy Amphitheater near the Lehman Caves Visitor Center
Mather Overlook along the Wheeler Peak Scenic Drive
Baker Archaeological Site outside the park and the town of Baker
The Ranching Exhibit along Highway 488 between the town of Baker and the Lehman Caves Visitor Center
It is important to note that none of the locations above allow overnight camping. Please visit respectfully and responsibly by returning to a campsite after a full night of viewing the stars.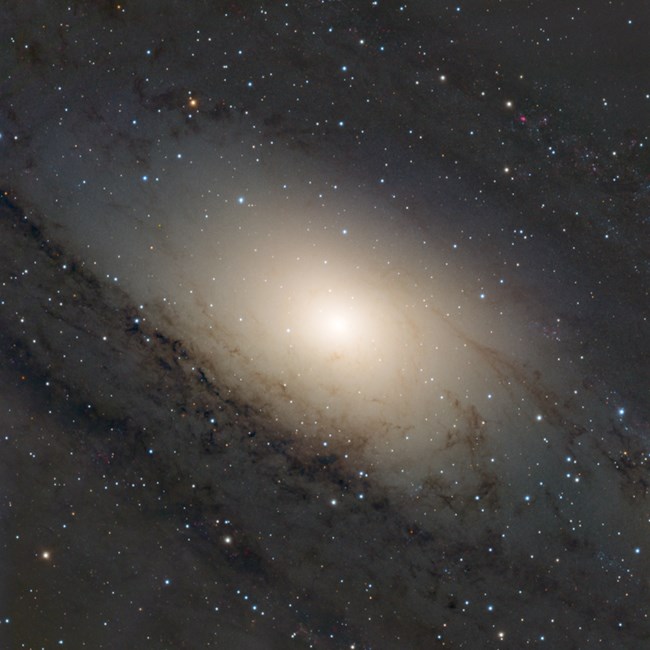 How to Stargaze
Like any visit and activity in a national park, proper planning will help you have the best experience possible while stargazing. Here are some tips from our astronomy rangers:
Pack a red flashlight or headlamp: Red light will best preserve your night vision, unlike white light which will hamper or worsen it. Most headlamps have a red light mode these days, so read the instructions with yours to see if you can help preserve the night!
Spend a while in the dark: It takes up to thirty minutes for the human eye to adjust to the darkness of night, so being prepared to take a good long look at the sky and spending an hour or more will mean you get the best possible view.
Check the Moon phase: Great Basin has dark skies nearly free of light pollution, but the full moon can turn a dark sky into one far harder to view far away and faint objects. Visit during a new moon for the best skies.
Download a stargazing app or use a star chart: Many apps are available for androids and iphones, or through a web browser on a desktop/laptop computer which can show you what will be visible in the future, or what you might be looking at that night. Rangers often use Stellarium, a free web platform and app both of which have a red-screen "night mode" to preserve night vision. Planispheres/Star Charts are an excellent tangible tool as well, and can help you determine the organization of the sky. Pick one up at either visitor center, or online before your visit!
Bring binoculars or a telescope: Binoculars are often an excellent tool to begin your stargazing journey, allowing you to look more closely at deep objects that may appear faint or may not even be visible to the naked eye. Beginning your journey as an amateur astronomer with a telescope? Find a flat location to set up away from light sources, and point up!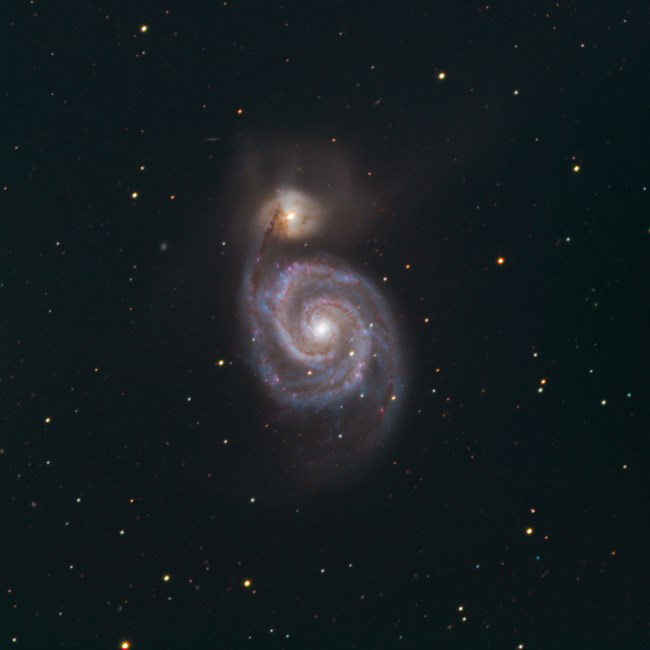 What to look for in the night sky
What to look for depends on the time of year you go. A star chart will help you identify what you are seeing. It will also show you the locations of the most prominent constellations in the northern hemisphere. Remember that stars twinkle and planets don't. If an object is moving quickly and not blinking, it is a satellite or possibly the International Space Station. Here is a helpful planet viewing guide, and information about satellite flyover times.
The Milky Way galaxy will appear as a cloudy, silvery streak across the sky. Our view is from the inside looking out. In summer, we are looking towards the center of our galaxy, so it will be denser and therefore a bit easier to see. Everything we can see with just our eyes from our location is within the Milky Way galaxy, with two exceptions: the Triangulum Galaxy and the Andromeda Galaxy.
If you see a "shooting star", this is a meteor, a small debris fragment burning up in Earth's atmosphere. The best opportunities to see these are during meteor showers. If you come to the park at the right times, you might catch the Perseids in August, the Orionids in October, the Leonids in November, and the Geminids in December. Check out which meteor shower you may be able to see.
Spot the Station in the Basin
Look for the International Space Station as it flies over Great Basin National Park. The ISS traverses the circumference of the earth roughly every 93 minutes making for regular opportunities to get a chance to spot when flying over our humble section of Nevada.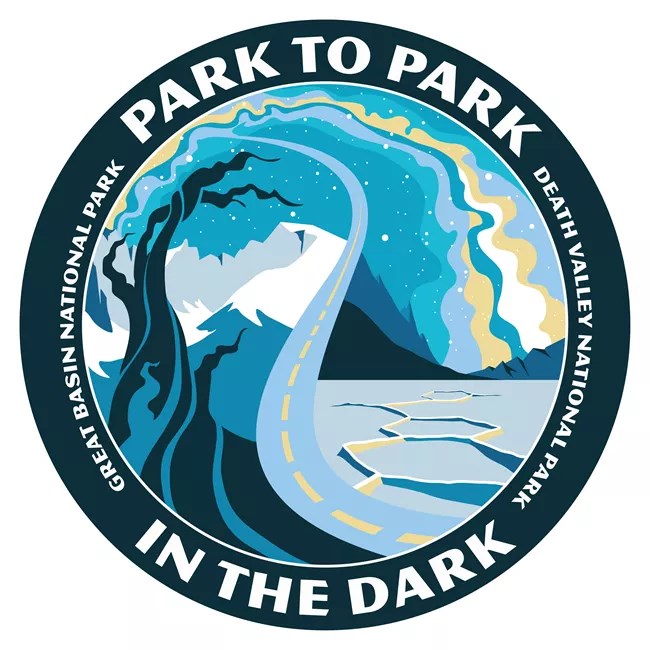 Park to Park in the Dark
Drive along the starry-est route in America! Park to Park in the Dark is Nevada's first astronomy route connecting two International Dark Sky Parks and 5 stellar, rural towns along routes US-95 & US-6. The Starry-est Route in America offers a galaxy of outdoor recreation opportunities – both day AND night! Motorists along this route will be able to ponder life's biggest questions as they travel through some of the darkest areas in the country and gaze up into star-studded skies.

The route winds its way through rural Nevada and California and offers countless opportunities for star gazing, telescope viewing and astrophotography, along with plenty of daytime activities. Services are limited to the towns of Beatty, Goldfield, Tonopah, Ely and Baker, which are separated by long stretches without cell service, restrooms, or gas stations.

Establishing the route was a collaborative effort between local communities, non-profit organizations, and various land management agencies including the National Park Service. This route promotes outdoor nighttime recreation while also highlighting the importance of preserving the dark.
Last updated: October 18, 2023