Astronomy Programs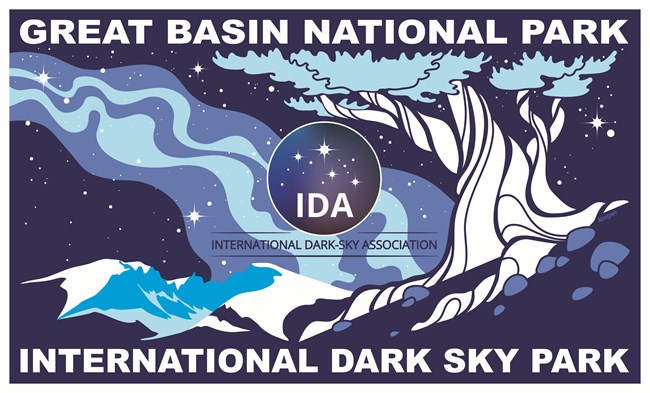 One of the darkest skies in the United States...
Recognized by the International Dark Sky Association as an International Dark Sky Park in 2016, Great Basin National Park is home to some of the least polluted and clearest night skies in the contiguous United States. The International Dark Sky Association has recognized that Great Basin provides distinguished and significant opportunities to experience dark nights. We protect our pristine nighttime environment for scientific, recreational, and cultural values.

On a clear, summer moonless night, endless spectacles dazzle your eyes. Thousands of stars, bright planets, star clusters, artificial satellites, meteors, the Andromeda Galaxy, and the spectacular arc of the Milky Way are visible by the naked eye from nearly anywhere in the park. Low humidity and minimal light pollution, combined with high elevation, create a unique window to the universe.
Astronomy Programs
During the summer months, roughly between Memorial Day and Labor Day, Great Basin Astronomy Rangers lead programs at the Astronomy Amphitheater every Wednesday, Thursday, and Saturday. Following the Astronomy Festival in September, programs are reduced to every Saturday.

Each program includes a thirty minute ranger talk followed by one hour and thirty minutes of viewing space objects through telescopes, for a total program time of two hours.
Times vary through the summer as sunset times change, so check the park calendar for program times.
Bad weather can hamper programs. If rain or lightning is present up to 30 minutes before a program, programs will be cancelled in their entirety. Just cloudy? We still put the program on and will attempt to find objects in the gaps between clouds, but may be cancelled if the sky is completely covered. Check the astronomical forecast and weather forecasts to gauge our chances for clear skies.
Programs are free and require no reservation, though there is a maximum capacity. Visitors will be turned away once the Lehman Caves Visitor Center parking lots have filled.
Can't make it to a program? Stargazing is wonderful all year round from almost anywhere in the park. Learn more about stargazing on your own here!
Want to become a Jr Ranger Night Sky Explorer? You can earn Great Basin's special night sky patch by completing the booklet, available here at the park in limited quantities, or online to print at home. Rangers will happily swear you in and award the coveted patch at astronomy programs!
Astronomy Program Rules
All rules are in place for the safety of visitors in low-light conditions, the safety of our equipment, and to reduce tripping hazards as much as possible.
No white lights (flashlights or cell phones) are allowed to be used after sundown. Red flashlights and headlamps are encouraged, along with red light filters for phone screens.
Drugs, alcohol, cigarettes, and e-cigarettes/vapes are strictly prohibited. Smoke can damage telescopes extensively.
Pets are not allowed, even if carried. Service animals are welcome (this does not include emotional support or therapy animals).
Camp chairs, tripods, or personal telescopes are not allowed. Space is limited and seating is provided. You may set up telescopes or cameras on tripods after the program has concluded and rangers have taken down all equipment.
Listen to all instructions and directions from rangers. Telescopes are incredibly delicate and may be easily damaged.
Layers are encouraged, even on summer nights.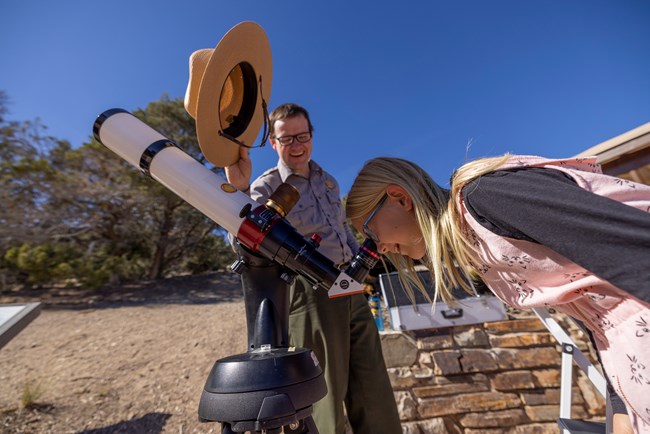 Solar Scopes
On many summer afternoons, astronomy rangers will have a solar telescope set up to view the sun and its many features! Find these behind the Lehman Caves Visitor Center on clear days, and get the opportunity to view dark sunspots on the surface, filaments and prominences many times the size of earth, and the rarer coronal mass ejections as the sun flings particles into space.

Solar Telescopes are available and fun for all ages and abilities. Ask a ranger if a solar telescope is set up or will be up any time soon.

Want to learn more about the sun and its behavior? Head to the National Oceanic and Atmospheric Administration's (NOAA) Space Weather forecasts here.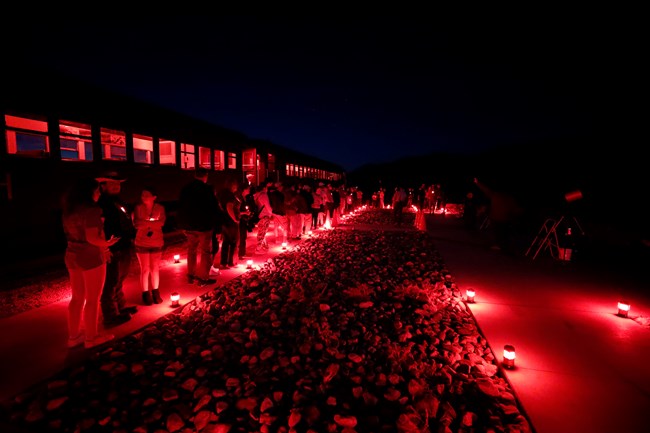 The Star Train - Run by the Nevada Northern Railway
Since 2013, Great Basin National Park has worked with the Nevada Northern Railway Company (NNRY) out of Ely, NV to bring the Great Basin Star Train to the public. This experience departs from Ely, NV and travels through the Steptoe Valley to a telescope pad, where rangers will talk about astronomy on the train and then guide telescope viewing outside of town.

The Star Train is a public partnership between Great Basin National Park and the Nevada Northern Railway. As the train departs, staff members of the NNRY and National Park Rangers will ensure you stay safe around these industrial giants and view far away objects in the night sky as the evening progresses. As with any astronomy night, clouds and a full moon can turn pristine skies of thousands of stars into a small number of bright objects, or even nothing at all. Please be patient will rangers and NNRY staff as we pull out all the stops to give a wonderful experience.

Tickets are required. Go to Nevada Northern Railway's website to learn more about the train and reserve your spot. The trains sell out quickly.

Note: The Star Train does not pass through Great Basin National Park

Please contact the Nevada Northern Railway at (775) 289-2085 for dates.
Accessibility
Great Basin National Park strives to serve all audiences who wish to come see our breathtaking night skies and experience the unfathomable expanse of the universe.
If you have mobility concerns, ADA accessible parking is available at the Astronomy Amphitheater. Spaces can fit passenger vehicles and some smaller RVs along with room to deploy wheelchair ramps. Please speak with a ranger when you arrive to secure accessible parking. Large RV's and vehicles actively towing trailers cannot be accommodated.
The Astronomy Amphitheater is fully wheelchair accessible, and spaces are available for wheelchairs to sit right next to permanent benches. The path from the parking lot and the entire amphitheater are dirt, so can be rough and/or rutted after heavy rain or snow. Bathrooms are also present in the parking area and are wheelchair accessible without door assists.
For those with hearing impairments, assistive listening devices are available for loan for the duration of the program. These devices amplify the ranger's voice to an earpiece for individual listening. A handful of these devices are available, and calling ahead to notify a need for devices is encouraged. Call the Lehman Caves Visitor Center at (775) 234-7510 or e-mail us by clicking here. Live captioning is unfortunately not available due to a lack of internet access at the amphitheater.
Service animals are allowed full access in national parks, just as any person is. To have the best experience, make sure your working animal is comfortable with large crowds and dark environments.
We regularly look for ways to improve the accessibility of our programs. Have a concern not related to those above? Call the Lehman Caves Visitor Center at (775) 234-7510 or e-mail us by clicking this link.
Last updated: August 26, 2023