Nature & Science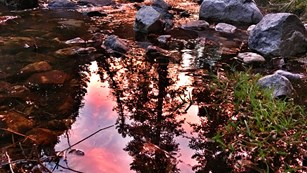 Environmental Factors
Great Basin National Park is subject to numerous environmental factors including fires, water quality concerns, and climate change.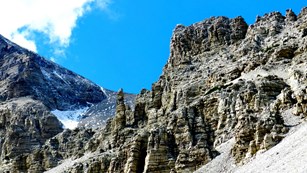 Natural Features & Ecosystems
As elevation increases, ecosystems change with different natural features too be seen.
The Diverse Great Basin
Imagine a place where hot desert valleys meet mountain ranges with peaks soaring above 13,000 feet. Where prickly pear cactus, sagebrush, aspen, fragile alpine wildflowers and ancient bristlecone pines grow. Where mountains lions, Clark's nutcrackers, snakes, and jackrabbits roam. Such a place exists, not just in your imagination, but in living color in the Great Basin Region of the western United States.
Great Basin National Park, and the larger region it represents, are diverse in both landforms and living things. Ranging in elevation from 5,000 - 13,000 feet, you will find deserts, playas, mountains, rock formations, fossils, springs, caves, creeks, and even a lone glacier.
Because the Great Basin exhibits such drastic elevation changes from its valleys to its peaks, the region supports an impressive diversity of plant and animal species, from those adapted to the desert to those adapted to forest and alpine environments. In Great Basin National Park and the neighboring valleys alone, there are 11 species of conifer trees, 73 species of mammals, 18 species of reptiles, 238 species of birds, 8 species of fish, and over 800 species of plants.
Great Basin National Park does not exist in a vacuum, however. Like all national parks, it faces environmental factors such as air quality threats, invasive species, and water issues, like nearby groundwater pumping.
Quick Links
Great Basin National Park BioBlitz
Interested in exploring and learning more about your national park? Every year Great Basin hosts a BioBlitz, where volunteers from all over help us document the biodiversity of our park in a fun, science-filled three-day event. This year, due to Coronavirus, we're taking the BioBlitz to a new realm. Check out the BioBlitz page for details.

Great Basin's Lint and Restoration Camp
Every year, over 30,000 people go through Lehman Caves and leave pieces of lint and trash behind. The cave has no way of naturally cleaning out this debris, so we have volunteers join our resource management team once or twice a year to help clean out the cave. You can help clean formations, dig up old trails, and maybe find some artifacts from old cave explorers!
The Midden
This is a fantastic publication to catch the highlights of the research projects going on in the park. Learn about projects involving bats, beetles, and cave signatures! Oh my!

Recent Scientific Publications
Follow the most current research related to the Great Basin. Here you will find a sampling of the most up-to-date scholarly articles pertaining to this park.
Last updated: October 8, 2021