Great Basin Lint and Restoration Camp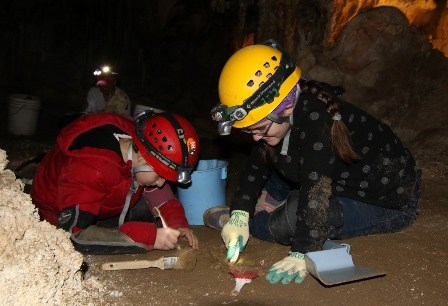 What is Lint Camp?
Each person who goes through Lehman Caves unintentionally leaves behind a little bit of lint and debris - particles float off our clothes, a hair or two might fall off our head, dirt from our shoes gets left behind, sometimes things fall out of our pockets. With over 30,000 visitors to Lehman Caves each year, this tiny bit per person ends up having a sizeable impact to the cave. Over time, a layer of lint and dust often covers many of the cave formations and walls. The lint can have many adverse effects on the cave, including dissolving formations, providing unnatural odors and an artificial food source for cave life, and marring the aesthetics of the cave (Horrocks and Ohms 2006).
To help protect the cave, Lehman Caves holds lint and restoration camps in the winter, when the cave is driest and there are fewer tours. Volunteers come for two or three days to help clean the cave and remove debris.
Volunteers will work in various parts of the cave and will be assigned a variety of tasks, from dusting to digging to removing algae near lights. Lint Camp volunteers have also helped remove tons of debris left over from previous trail-building efforts. These restoration efforts are especially popular as volunteers uncover sections of the original cave floor.
Why Come to Lint Camp?
Why come to the cave to get down and dirty? Many are happy to know they are making a difference. Some enjoy the quiet of the cave, the lack of cell phone service, and the company of other volunteers. You could get to know the cave better, climbing into spaces only seen from the cave tour. You could also help park staff monitor White-nose syndrome in bats during winter cave visits, gain more caving experience, or even help make the next archeological discovery! The park archeologist attends Lint Camp to help volunteers identify objects found next to the trail. Nails, coins, and a pool hall token have been found found, as well as additional historic signatures.
One of the biggest perks of joining Lint Camp is being allowed to see some of the off-trail areas, including the largest room of the cave: the renowned Talus Room. The Talus Room is roughly the size of a football field and closed during the 1980s due to rock fall. Volunteering with Lint Camp is one of the
very
few opportunities visitors have to visit this amazing place.
Results
Each year, teams work in different parts of the cave, some picking lint off formations, others removing hairballs and trash from staircases and along the edges of trail. Teams uncover rimstone dams and flowstone that have been buried by old debris for decades and remove f debris and sand originally brought in for old trails.
Volunteers of all ages participated and were able to meet the centennial goal to connect with and create the next generation of park visitors, supporters, and advocates. Former Great Basin National Park Superintendent, Steve Mietz, who participated in the lint camp, said, "Lint camp is making life-long stewards of the cave and park. I was especially impressed with the dedication and persistence of the kids and parents who spent hours carefully cleaning the formations, asking questions, and at the end of the camp, inquiring when they could return to 'their spot' to finish their work."
Lint Camp was temporarily suspended in 2020 and 2021 due to COVID-19, but reopened in a limited capacity in January of 2023. We expect to return to the regular practice of hosting Lint Camp each winter sometime between January and March.
Many thanks to all who have participated in past lint and restoration camps! We were all awarded a National Speleological Society (NSS) Conservation Award in the summer of 2016 for the great work that has been done during these camps.
Join Us!
If you're interested in attending a Lint and Restoration camp, we'll be happy to add you to our email list. Please send an email and short introduction to
e-mail us
. We usually send out an email and post on the park's Facebook page in the fall about the opportunities that winter. Limited spots are available in each lint camp.
Read More
Lehman Caves' Lint Camp has been written about in
National Parks Magazine
and in the
Los Angeles Times
.
Last updated: January 24, 2023