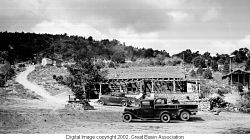 Lehman Caves National Monument
President Warren G. Harding declared Lehman Caves a national monument on January 24, 1922. It was dedicated in a grand celebration on August 6th that involved the American Legion, the mayor of Baker, and local school children. In 1923 the caves and surroundings were designated a State Recreation Ground and Game Refuge. White Pine County followed suit and proclaimed the whole Wheeler Peak area a Wildlife Preserve.
The U.S. Forest Service administered Lehman Caves National Monument, but demonstrated little presence at the cave, allowing private operators to do as they pleased. Clarence Rhodes, a former restaurant owner and chauffer to Nevada's governer, was made the official custodian of the caves, and was allowed to keep guide fees for his pay. The approved tour fees were one person, one dollar; children under twelve, free; groups of twelve or more, five dollars. Truly bargain rates for tours that often lasted three hours or more!