Rhodes Cabin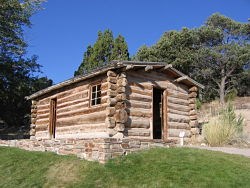 Next to the Lehman Caves Visitor Center sits the historic Rhodes Cabin. The cabin was built in the 1920s by Clarence and Bea Rhodes, who were Forest Service custodians of Lehman Caves at the time. It is one of several built to provide accommodations for visitors to Lehman Caves. Today it contains interpretive exhibits.
The cabin measures 19 feet long and 11 feet wide with a front door, a side door, and four windows. It has been moved from its original location, restored, and placed on a concrete foundation. The logs, originally chinked with mud and concrete, are now chinked with cement made to simulate mud. The original roof was plank and sod supported by log beams, and the original floor was dirt.
The Rhodes Cabin was placed on the National Register of Historic Places in 1975 because of its association with the early tourist industry at Lehman Caves.
Last updated: February 18, 2017