Lehman Caves History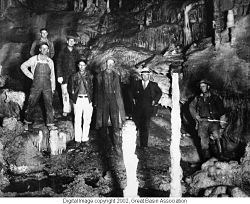 Lehman Caves attracts tens of thousands of visitors to eastern Nevada yearly, a trend that began not long after their discovery in the late 1880s. For over 60 years, Lehman Caves National Monument protected these underground wonders, with their unique geology and ecology. And today, they remain protected as part of Great Basin National Park.
The human history of Lehman Caves is both interesting and insightful. The opening of such a natural wonder only 130 years ago is thrilling, while the abuse the cave endured during its early years causes many people to cringe. Learning about the early years of Lehman Caves provides context for the cave today. History remains the great teacher.
Sources and Information
The definitive history of Lehman Caves, and the source for much of the information on this website, is Lehman Caves...Its Human History:From the Beginning Through 1965 by Keith Trexler, a National Park Service publication. The Great Basin National Park Historic Resource Study, another NPS publication, is a good source of information, particularly for events after 1965.
Last updated: April 22, 2021