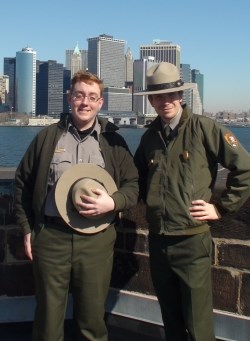 It's the dawn of a new day for me, if only I knew what day it was... Oh wait, it's...
FRIDAY
April 29, 2011
Escape from New York
I'm leaving Governors Island National Monument! My seasonal position has come to its end here. In a week's time I'll be working in Yosemite National Park through the summer. But who knows, I may come crawling back at some point.
I will certainly miss it here. The Winter season was refreshing. I find it amazing that here, in the most densely populated and largest city in the US, that there is a place as quiet as this. It's ironic considering that I will have to deal with considerably more people, crowds of them, in Yosemite Valley, a place seemingly so far removed from the hustle and bustle of the cities.
I will also miss my delightful coworkers. Thanks for all the wonderful opportunities, fun, fun, and thinking about fun. Don't cry for me, Governors Island. I will keep you in my heart always. I will draw inspiration from this place and the people in it when I'm out there interpreting, somewhere, within the vast fabric of the NPS cosmos.