RCDT: Fact Sheet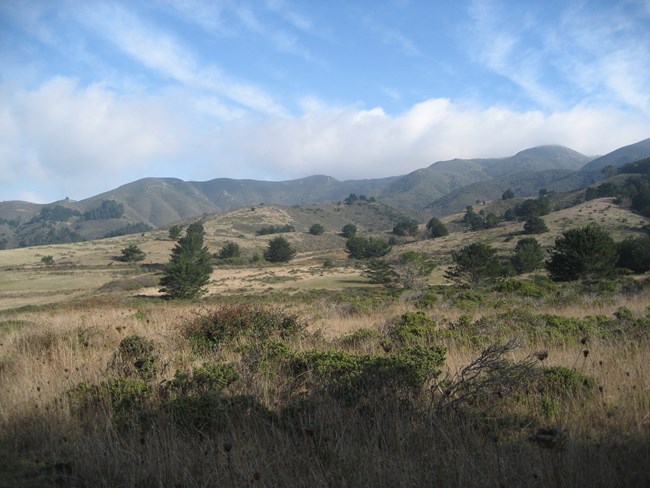 Overview
Golden Gate National Recreation Area is poised to assume responsibility for nearly 4,000 acres on the San Mateo County coast just south of San Francisco. Rancho Corral de Tierra (Rancho), one of the largest undeveloped pieces of land on the San Mateo peninsula, was planned for subdivisions, "ranchettes" and a golf course. Instead, its awe-inspiring views, important watersheds, miles of public trails, and diverse wildlife is now open to the public as part of our nation's natural legacy.

How Rancho Corral de Tierra was Preserved as Open Space
The Peninsula Open Space Trust (POST), the preeminent land trust in San Mateo County, gathered the support of private donors to leverage $14 million in grants from the Coastal Conservancy and the California Wildlife Conservation Board. POST then purchased the parcel, listed at $50 million, for $29.75 million. Federal legislation to add the ranch to GGNRA passed Congress in December 2005. This opened the way to $15 million in federal matching funds and enabling much of the property to be opened to the public.
Date of inclusion into GGNRA
While visiting Rancho, please note that the National Park Service management of the area has just begun. Many of the existing trails are very steep and eroded and may be difficult to traverse until they are repaired or re-routed. Please use caution when visiting and respect private property.
Total Acres
GGNRA will manage 3,858 of the 4,262 acres of Rancho, with POST retaining ownership of the agricultural lands, including Cabrillo Farms and Ocean View Farms.

Watersheds
Rancho holds four watersheds: from north to south, Martini, Montara, San Vincente and Denniston Creeks all have their headwaters on Rancho. These stream systems provide important riparian habitat for a number of threatened and endangered species and offer wildlife a vital source of water, increased cover, and feeding and nesting opportunities.

Habitats
Comprised of coastal scrub and coastal chaparral habitats, Rancho's isolated and relatively undisturbed condition provides unique and productive habitat for a diverse array of plant and animal species.

Wildlife
The property supports numerous federally-listed threatened, rare and endangered plant and animal species and a number of other special species of concern, including:

Peregrine falcon
San Bruno elfin butterfly
Montara manzanita
San Francisco garter snake
Montara bush lupine
California red-legged frog
San Francisco wallflower
Coast rock cress
Historical Significance
Historically known as "Rancho Corral de Tierra Palomares" (Earthen Corral), the property encompasses the majority of the 1839 Mexican Land Grant to Francisco Guerrero y Palomares where he built the first adobe on the San Mateo Coast at Denniston Creek.
Read 2010 Historic Resource Study for Golden Gate National Recreation Area in San Mateo County, by Mitchell P. Postell, President San Mateo County Historical Association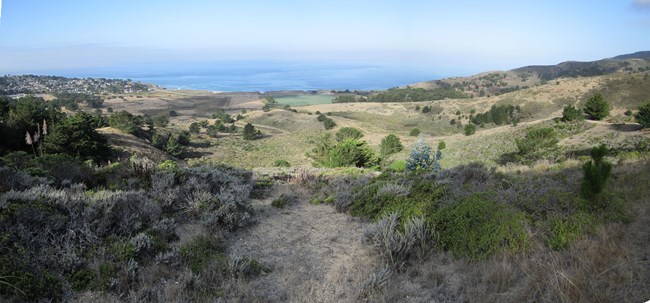 Views
Visible for miles, the property provides a scenic viewshed for California State Highway 1, part of the Cabrillo State Scenic Corridor.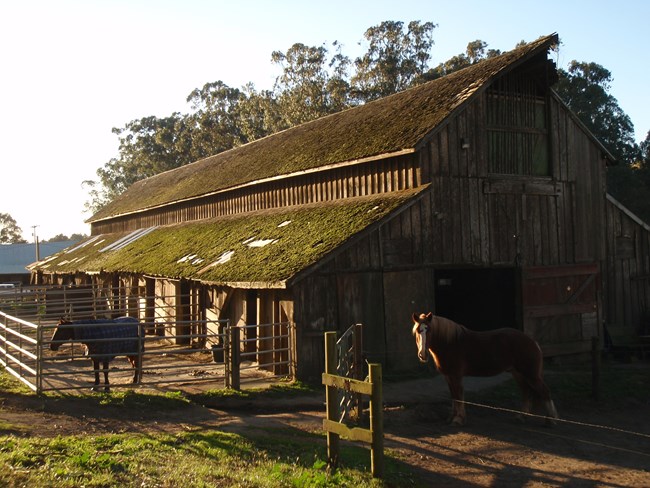 Access to Stables
While visiting Rancho Corral de Tierra, please note that Ocean View Farms, Renegade Ranch, Moss Beach Ranch and Ember Ridge Stables are privately run operations. Visitors may walk on trails running through the stables. However, please do not feed or touch any animals or enter any buildings without the staff's permission.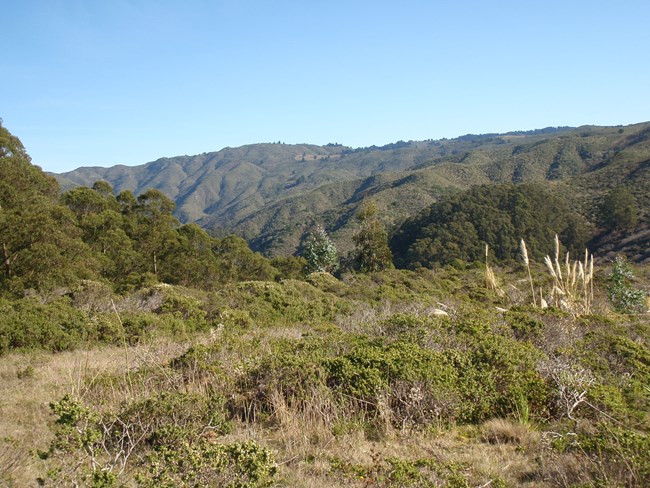 Of Note

Rancho is accessible to more than 6 million people who live within a one-hour drive.
This is a crucial corridor for connecting the congressionally-designated Bay Area Ridge Trail with the California Coastal Trail.
The property is easily accessible by public transportation from State Highway 1.
The dramatic ascent of Montara Mountain from the sea, 2,000 feet in just over 1 mile, is a spectacular sight not duplicated anywhere else in the Park and in few other places on the California coast.
Incorporating Rancho into GGNRA may allow an opportunity to establish a clear and logical southern entrance to the park that is currently lacking, providing an ideal location to introduce visitors to its unique configuration and its status as national parkland, with the large, single, geographically dramatic feature-Montara Mountain.
Last updated: March 31, 2012