Weather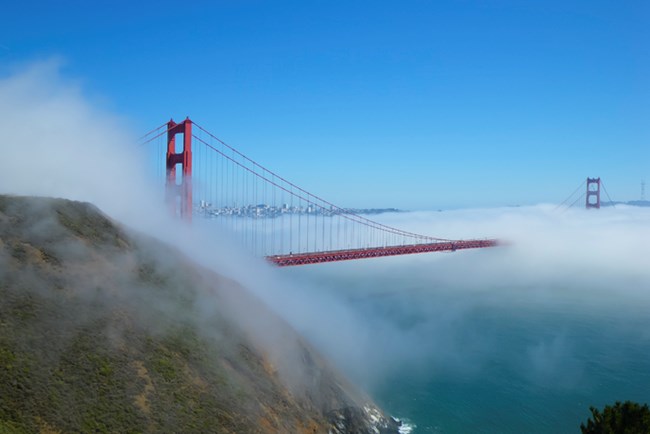 Climate differs throughout the many areas of Golden Gate National Recreation Area. Please refer to the following links to help you prepare for the sites you choose to visit.
Seasonal Changes
While not as dramatic as in some parts of the country, there are nevertheless distinct seasons in the San Francisco Bay Area. The park changes character throughout the year, and some activities are confined to certain periods.
Winter is characterized by occasional rain, cool weather, and overcast skies punctuated by brilliant sunshine. The grass becomes a verdant green during this season and the California gray whales migrate along the coast toward their wintering grounds in the lagoons of Baja California.
In the spring, many of the park's trees and flowers start to bloom in March to early April. Wildflower displays are at a peak in April, May and early June.
By July, summer fog begins to predominate in most coastal areas of the park. The grasses and plants that have now largely turned to the golden brown and muted grays characteristic of summer in California.
Starting in mid-late September and continuing through October, the fall skies are clear and brilliant sunshine is abundant everywhere in the park. In the fall, the raptor migration reaches its peak. The land is dry for the most part, and plants in the park appear dormant. Fall is the favored time in the park for many visitors.


Last updated: November 16, 2015