Accessibility Information - Ocean Beach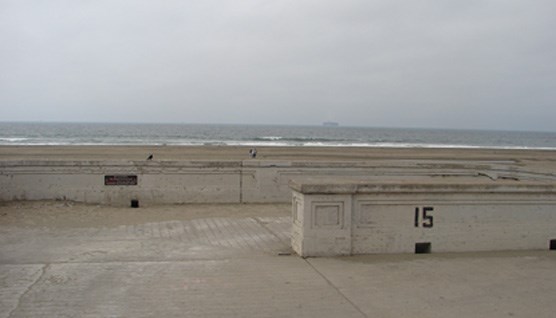 An All Terrain Wheel Chair can be reserved by calling (415) 561-4958, TTY (415) 561-4724, E-mail: e-mail us, we need at least one week advance notice. The All Terrain Wheel Chair must be used with assistance. Access to the water at Ocean Beach can only be done by using a non-accessible boat ramp with a running slope of 9.2% and 11.6% at Stairwell #15 (Existing Boat Ramp) and at the end of Stairwell 28, near Lincoln Blvd and Great Highway.
There are no designated accessible parking spaces; there is a ramp from the parking lot onto the side walk that has a running slope of 9.5% with no handrails at stairwell #15.
Our future plans are to provide accessible parking, accessible route of travel from the parking lot onto the side walk, to fire rings, and onto the beach.
There are several locations on ocean beach that you can park to access the side walk. The non-accessible ramps are located at stairwell #13 (running slope 9.9%), #21 (running slope 15.3%-not advice to use), and #27 (running slope 10.5%).
Note: Stairwells are identifiers for each stair leading to the sand from the side walk. Stairwell numbers start after the Cliff House and along the Great Highway and end at Lincoln Blvd.)

Last updated: March 31, 2012