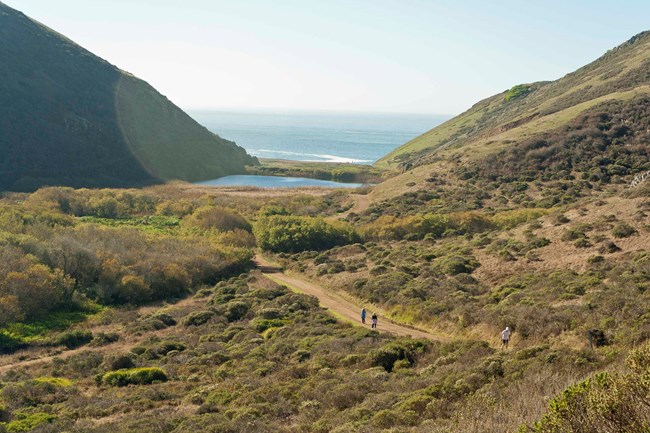 Trail Overview
Distance:
1.75 mi (2.8 km)
Time:
1 hour
Trailhead:
Tennesee Valley Trailhead
Slope:
Avg 4% Max 22%
Side Slope:
Avg 3% Max 11%
Width:
Avg 15' Min 36"
Trail Surface:
Asphalt, Compacted Natural Material
The Tennessee Valley (TV) Trail beings at the TV parking lot. The parking lot contains four accessible parking spaces, an accessible vault toilet and a small accessible picnic area. There is a large opening in the center of the main trail head gate that provides easy access for wheelchair users. The beginning of the trail is asphalt. This section of the trail is relatively flat in grade and continues as a paved surface for approximately ¾ of a mile. The trail is approximately 15' wide. Beyond the paved surface the trail turns to a compacted natural material. Stick to the lower spur trail to avoid steep terrain; this section of the trail can narrow to 3' wide due to encroaching vegetation. The view of the surrounding hillsides and vegetation is vast. At approximately 1 mile the trail begins to quickly climb and the running and cross slopes begin to exceed 12.5% and 8%. For those looking for a relatively flat hike this would be the place to turn back. Beyond this section there is an additional accessible vault toilet adjacent to the trail as you near the beach. Access to the beach is steep and likely not possible by wheelchair. In total the trail is approximately 1 ¾ miles long. The trail serves as a service road; depending on weather conditions the trial may contain pots holes, proceed with caution.